About Sona9 App
Sona9 brand was founded in 2020. It is a young project with ambitious goals. Our main task is to create the most comfortable environment for users for sports betting and casino games. And to achieve this we have developed two versions of the Sona9 mobile application on Android and iOS.
| | |
| --- | --- |
| Supported OS | Android, iOS |
| Application version | 1.1 |
| Application size | 50 Mb |
| Application category | Sports betting, casinos |
| Download cost | Free |
| Available on the Apple Store | Yes |
| Available on Google Play | No |
| Android version | 6.0 |
| iOS version | 11.0 |
| Languages | English, Hindi |
| Internet connection | Wi-Fi, 3G, 4G |
In terms of gaming features the mobile app is fully identical to the official website, and functionally even surpasses it. The interface is faster, easier to navigate, and more customisable. Experience the highest level of comfort and make your time on Sona9 even more enjoyable.
Download Sona9 App for Android
You can download the Sona9 bet mobile app on Android in just a few minutes. Just follow the steps below.
1

Download Sona9 Apk

Click the button to download Sona9 apk free file and confirm the download. If the browser warns of a threat, accept the download anyway.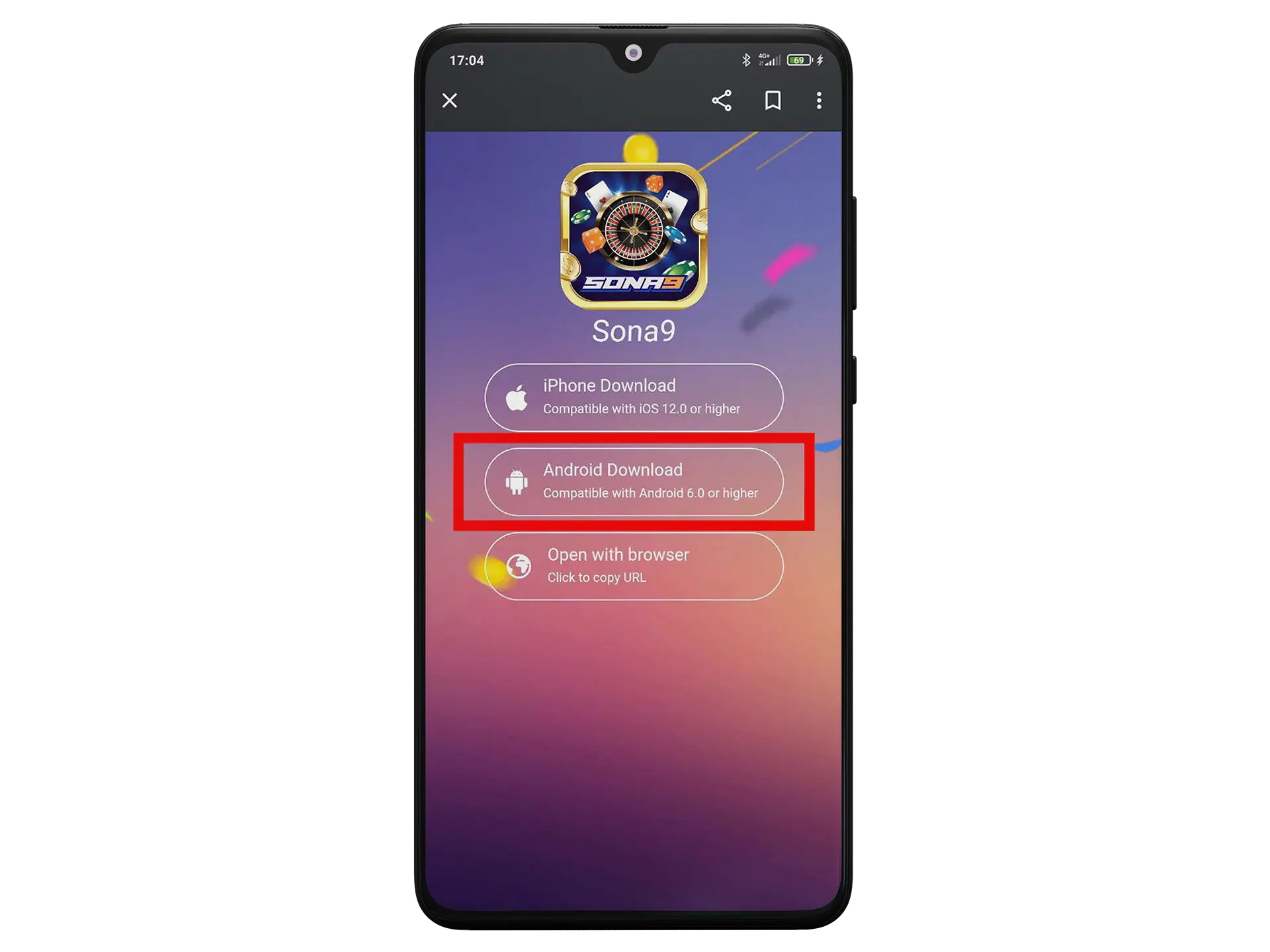 2

Go to the settings of your device

Open your smartphone's security settings and allow app from unknown sources to be installed.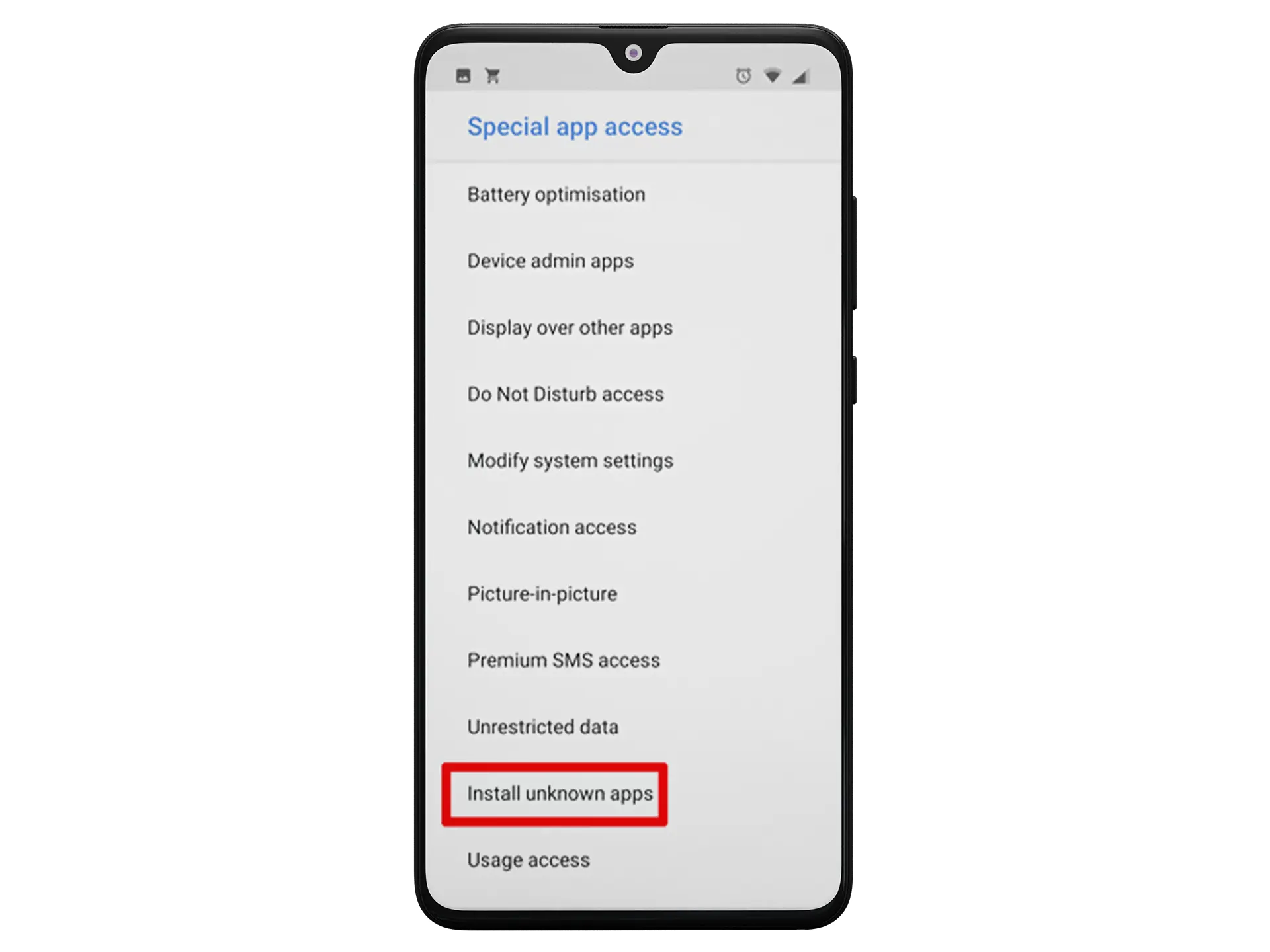 3

Complete the download process

Wait until the file download is 100% complete. Do not interrupt the process under any circumstances.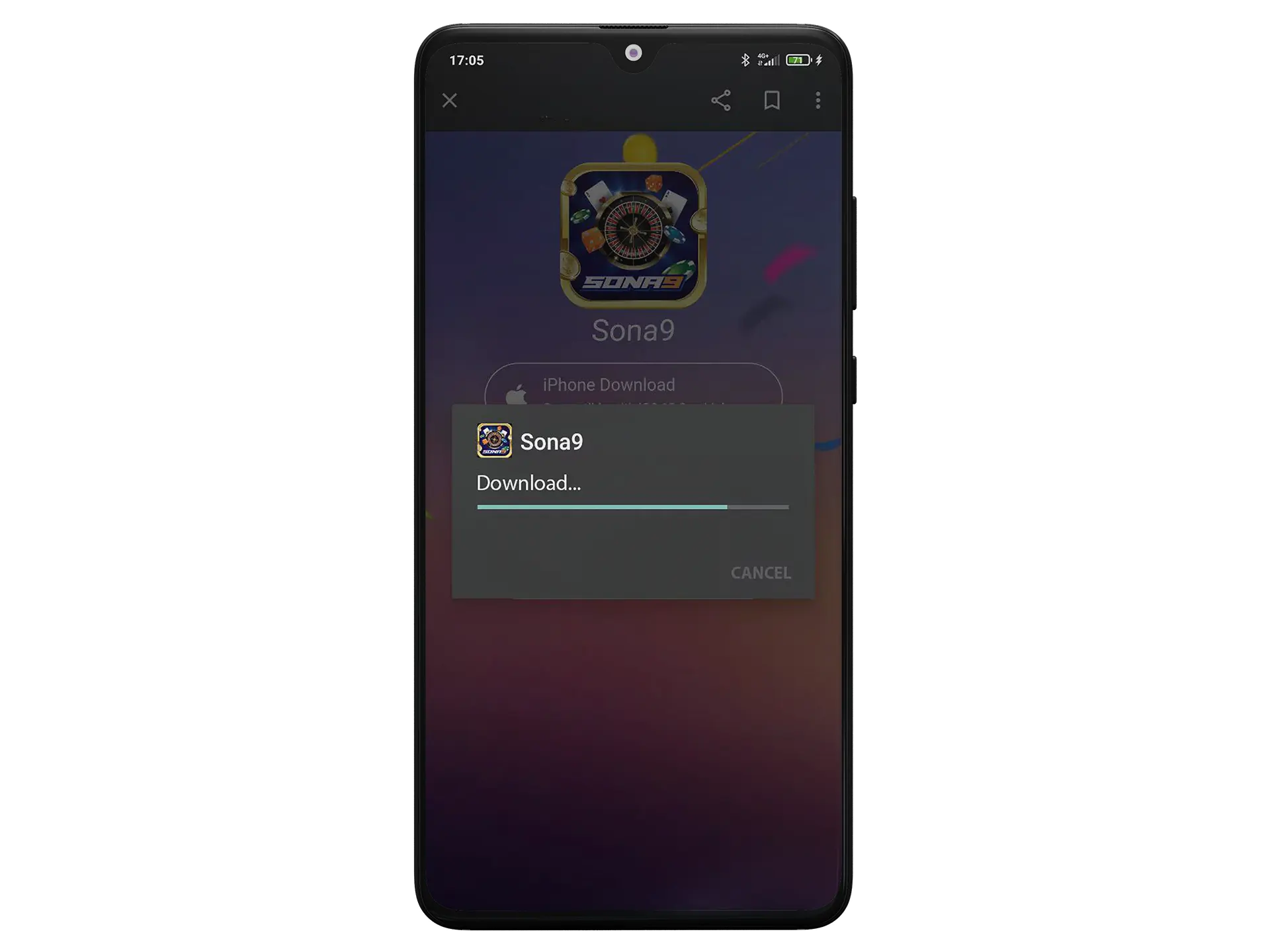 4

Confirm the file installation

When the download is complete, open the APK file and install it. After a few seconds, a shortcut to launch the Sona9 betting app will appear on your desktop.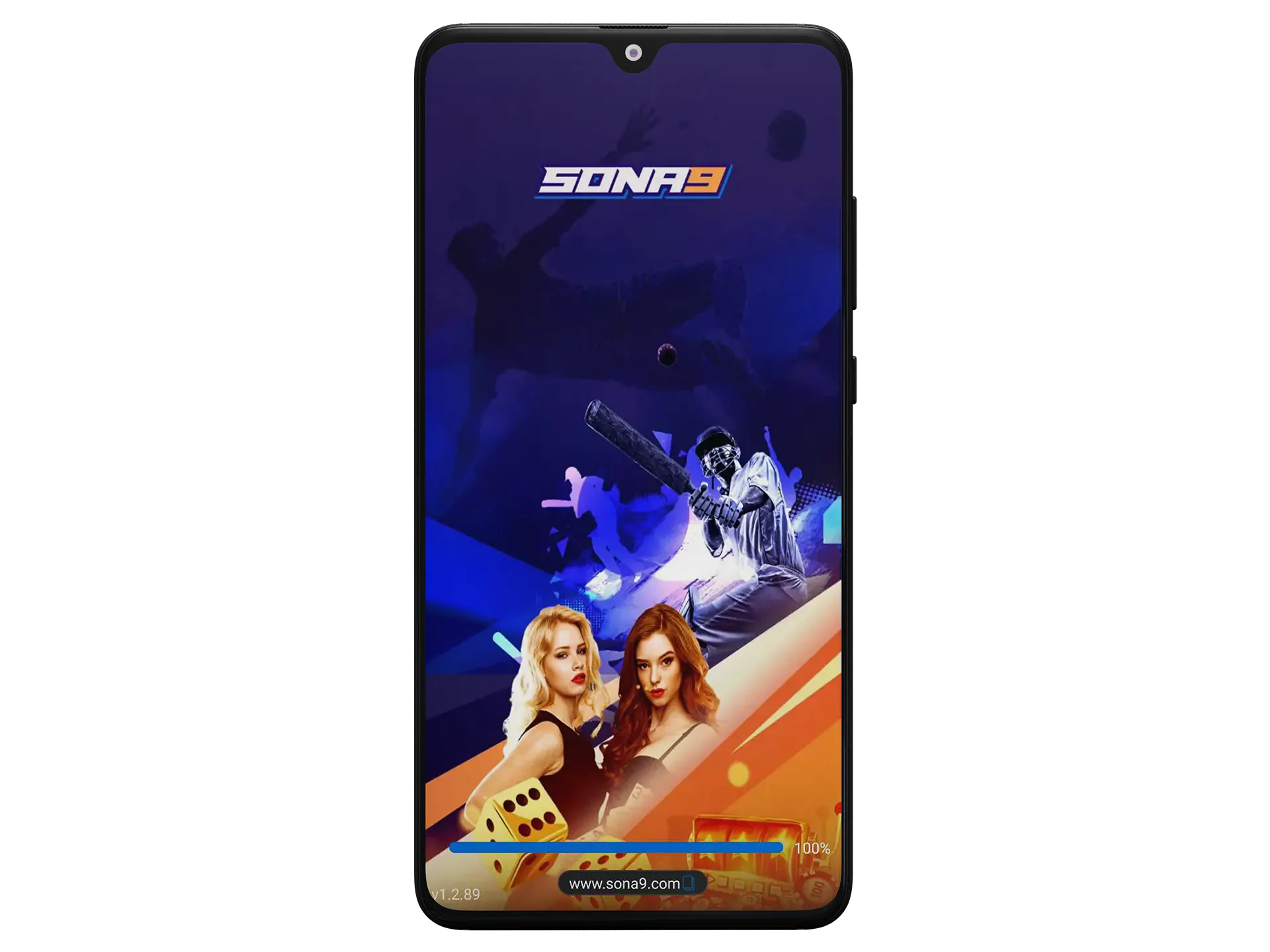 Download Sona9 Betting App for Android
Thanks to excellent optimisation, the Sona9 Betting App for Android runs stably on almost any smartphone with an operating system version 6 or newer. Hundreds of sports matches for betting, a huge selection of casino games, lotteries, jackpots and much more await you.
System Requirements
Before you start downloading and installing the Sona9 mobile apk, make sure that your device meets the recommended technical requirements.
| Requirement | Recommended value |
| --- | --- |
| Operating system | Android 6.0 |
| RAM | 1 Gb |
| Free memory space | 50 Mb |
If these requirements are not met, the application may malfunction. In this case, we cannot guarantee its stability.
Devices
Thanks to testing the application on many popular smartphone models, we can guarantee its comfortable operation. The software has been tested on dozens of devices, including:
HTC Passion;
Palm Pre 2;
Sony Ericsson U5 Kurara;
HTC Hero 2;
Sony Ericsson Xperia X10;
Samsung A30;
BlackBerry Storm 3;
Redmi Note 7.
These and similar smartphones will ensure the stable performance of the mobile application.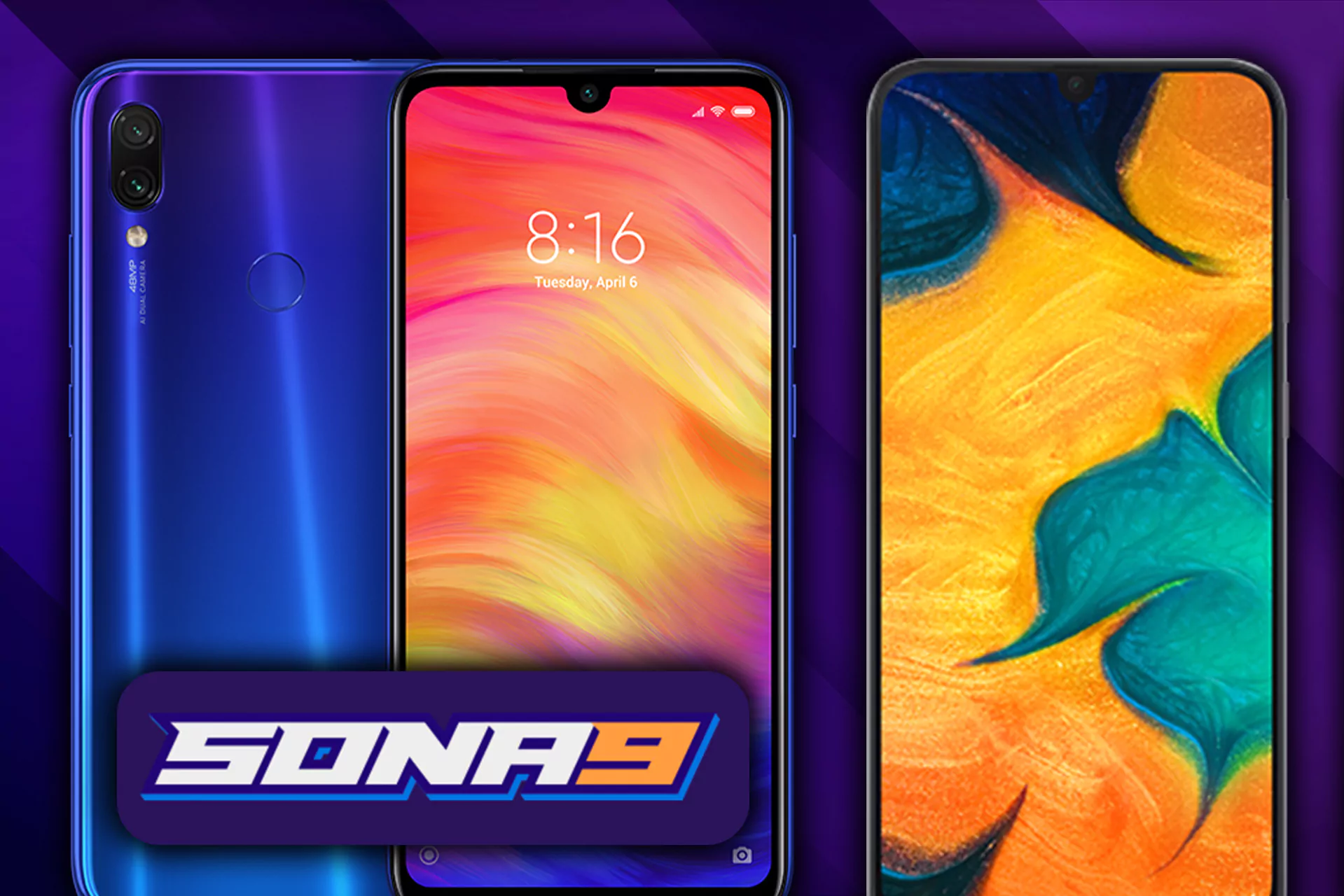 Download Sona9 App for iOS
To play on Sona9 on iOS device, you only need to follow a few steps. Just follow the instructions and you can start betting in just a couple of minutes.
1

Go to the official Sona9 website

Open the home page of the Sona9 website on any browser installed on your smartphone or tablet.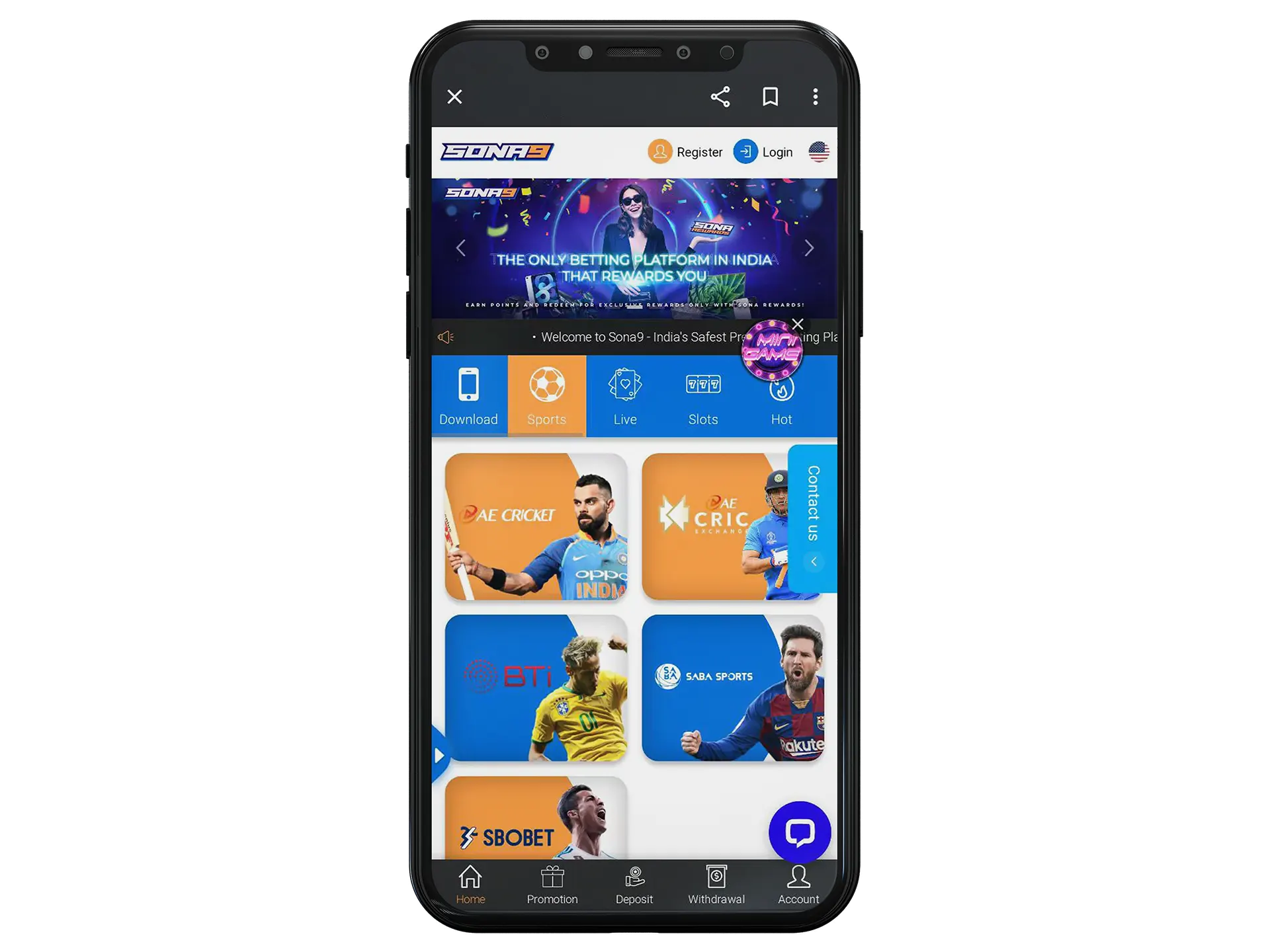 2

Register on Sona9

Create an account by filling out the form with personal and contact information.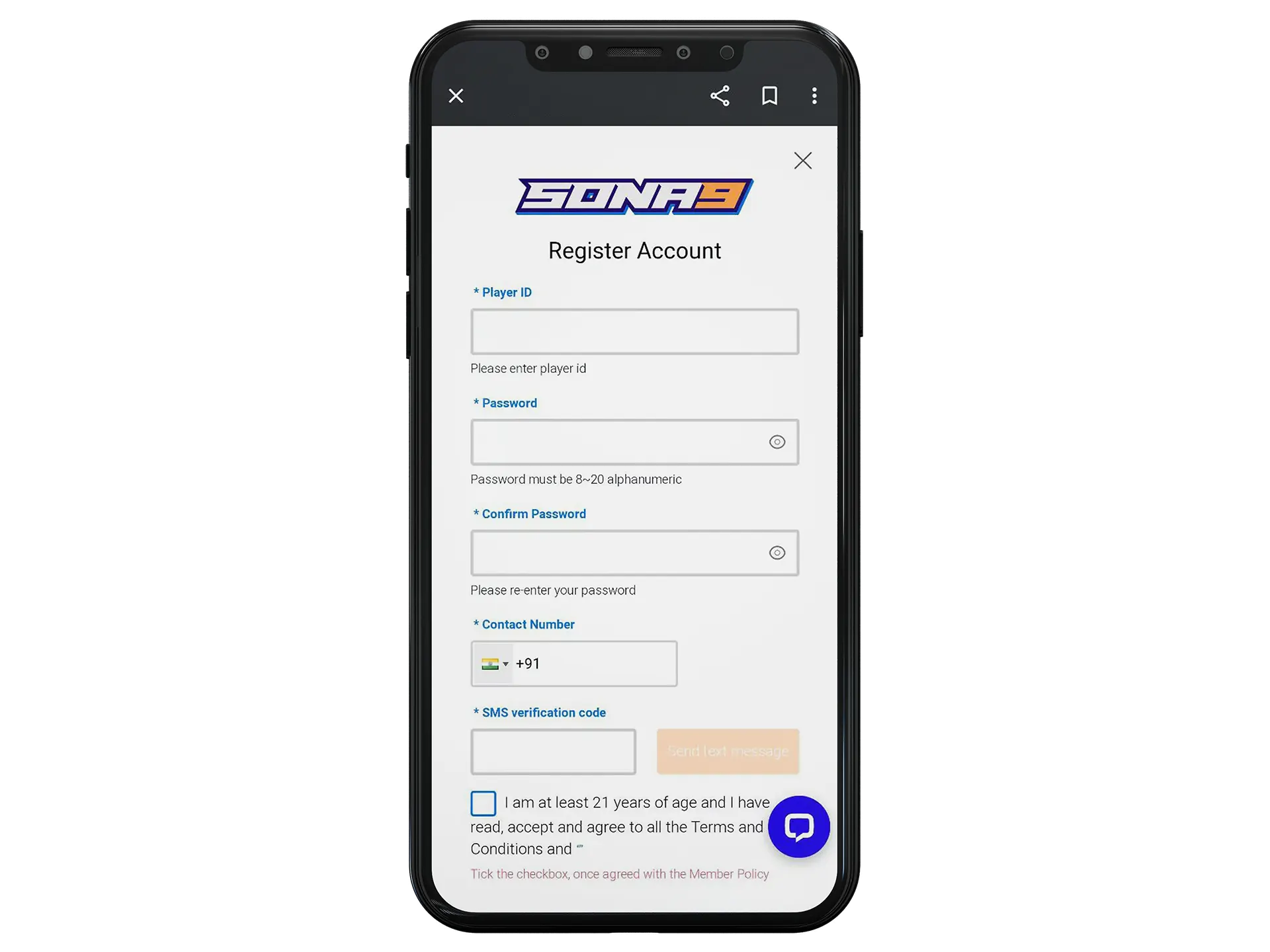 3

Download the app or play the web version

Install the Sona9 app for iOS, or log in to your account right away and start playing.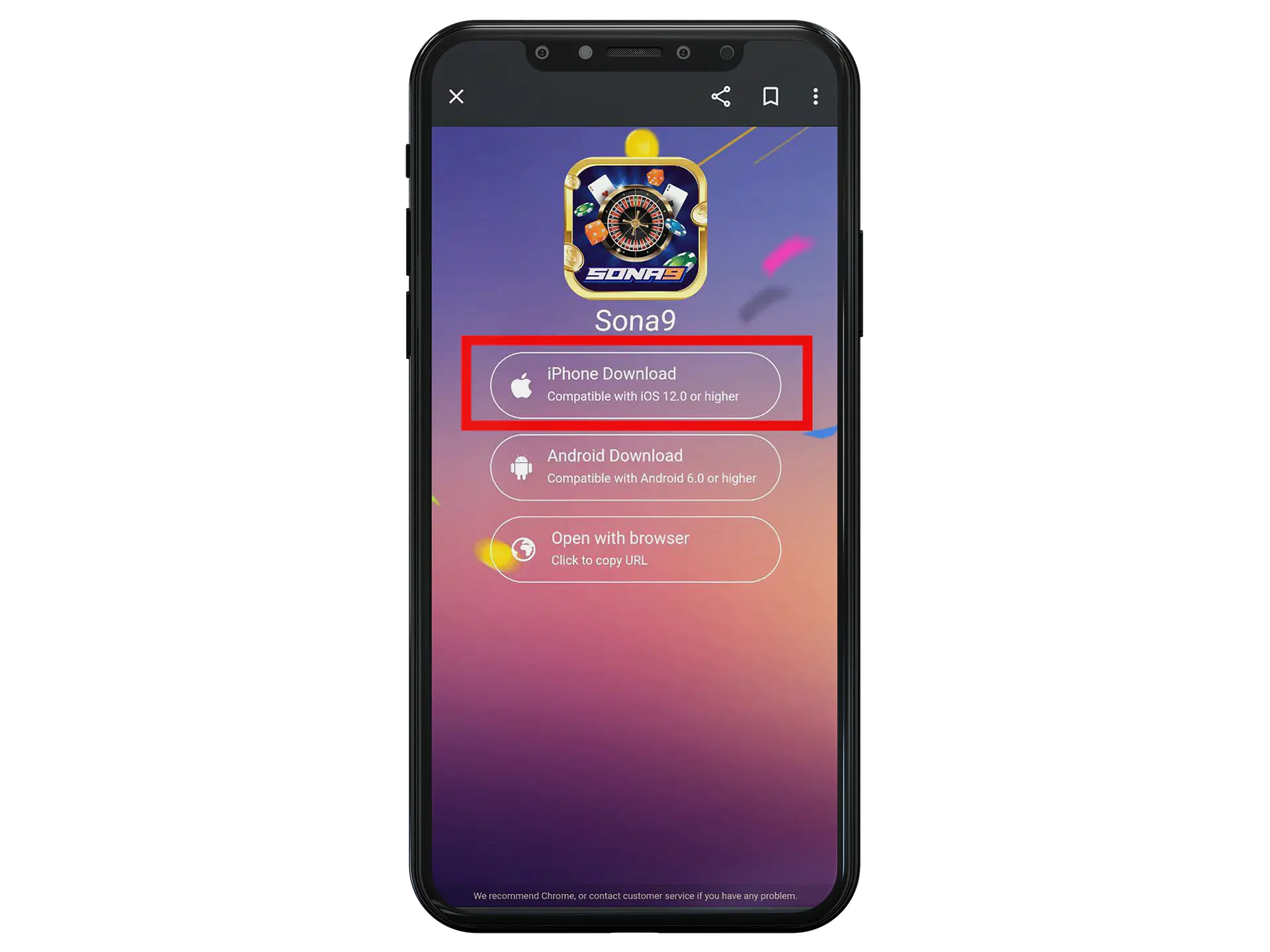 Sona9 App for iOS
Owners of iPhone smartphones and iPad tablets can also download the mobile app, provided that their device meets the recommended specifications. This version is not visually different from its Android counterpart, nor does it have a different feature set and gameplay capabilities.
System Requirements
To ensure that the application runs stably and without crashes, you need to install it on a device that meets the minimum system requirements.
| Requirement | Recommended value |
| --- | --- |
| Operating system | iOS 11.0 |
| RAM | 1 Gb |
| Free memory space | 50 Mb |
Playing is also possible on models that do not meet these specifications. However, in this case, the software may malfunction.
Supported iOS devices
Before introducing the Sona9 app for iOS to users, we tested it on a number of devices:
iPhone 5s;
iPhone 6;
iPhone 6 Plus;
iPhone 6s;
iPhone 6s Plus;
iPhone 7;
iPhone 7 Plus;
iPhone 8;
iPhone 8 Plus;
iPhone SE;
iPhone X.
Also, the software works fine on all iPad models starting from the Air version.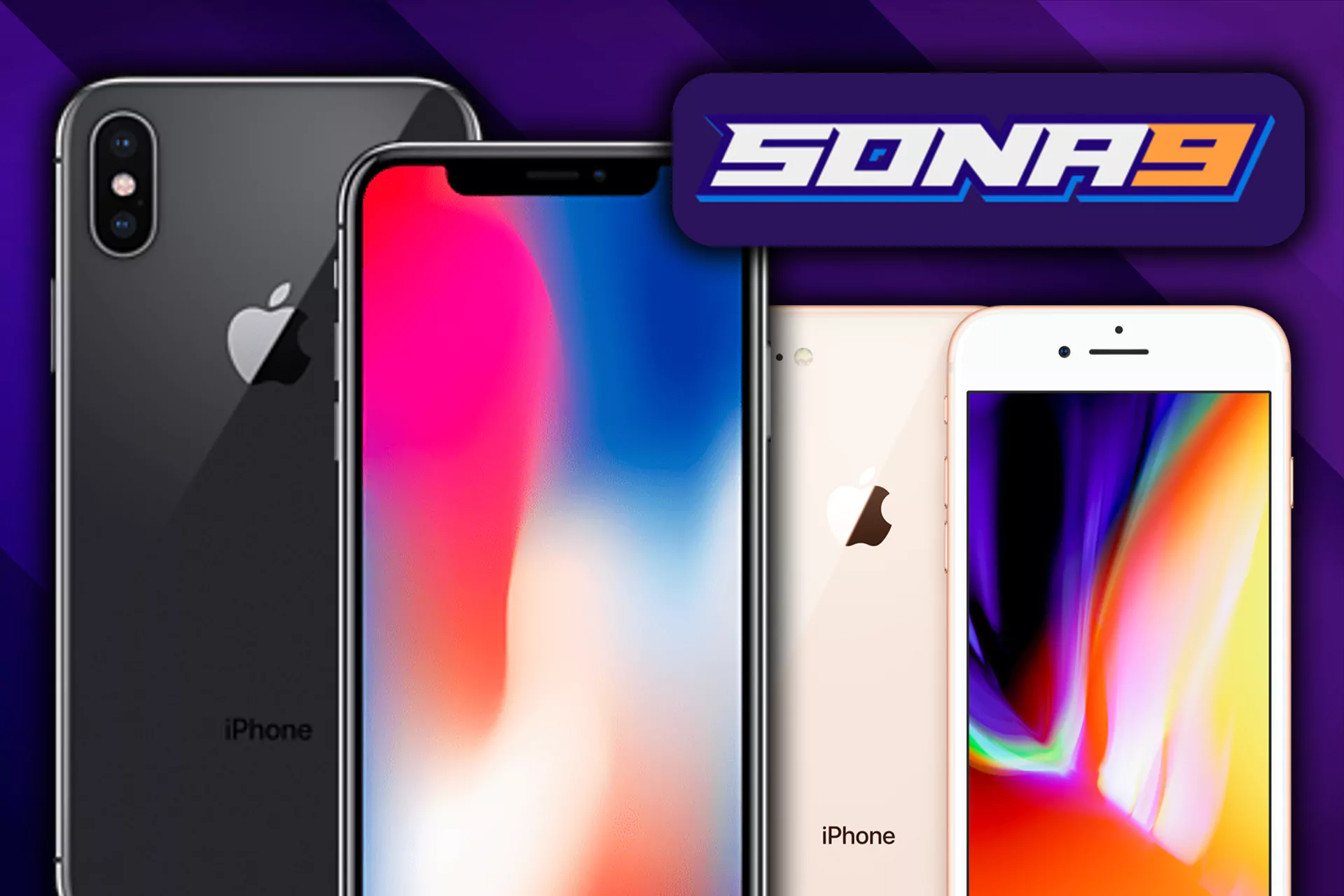 How to Install Sona9 App?
The procedure for installing the mobile app may vary slightly depending on which specific smartphone model and operating system version the player is using. However, the general steps are always the same:
Download the Sona9 apk file;
Allow installation of applications from unknown sources;
Wait until the software has finished downloading;
Run the apk file and install the application.
Then you need to open the client via the shortcut on the desktop, specify your login and password, or create a new account.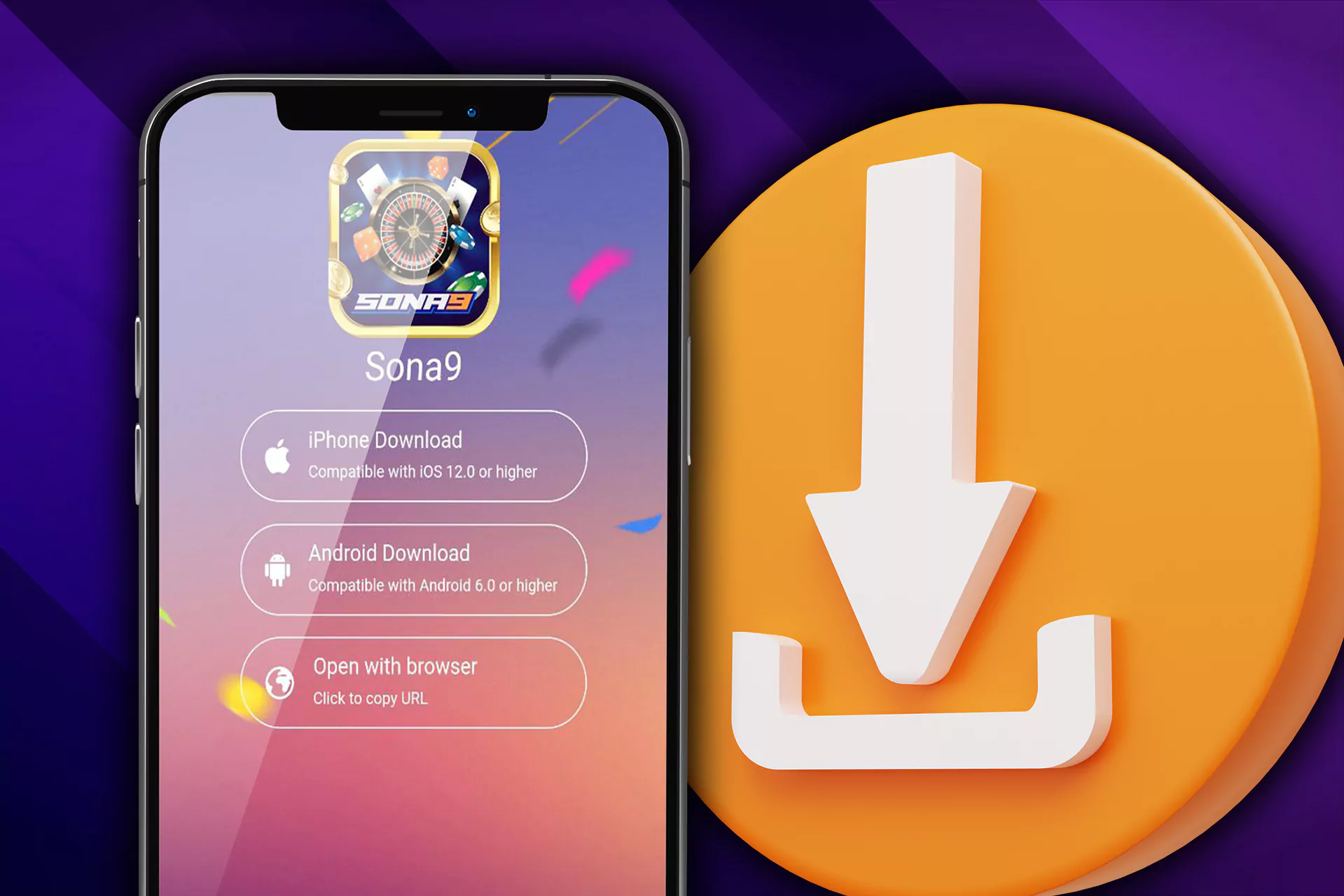 Registration via Sona9 Betting App
If you have previously registered on the Sona9 website, you do not need to create an account again. You can sign in with the account you already have. If you don't have an account, you need to register:
Launch the application and click the button to register;
Fill in the form with username, password, and phone number;
Confirm the phone number;
Complete the registration by accepting the terms of the user agreement.
You will then be able to log into your account, top up your account through the cashier and start playing.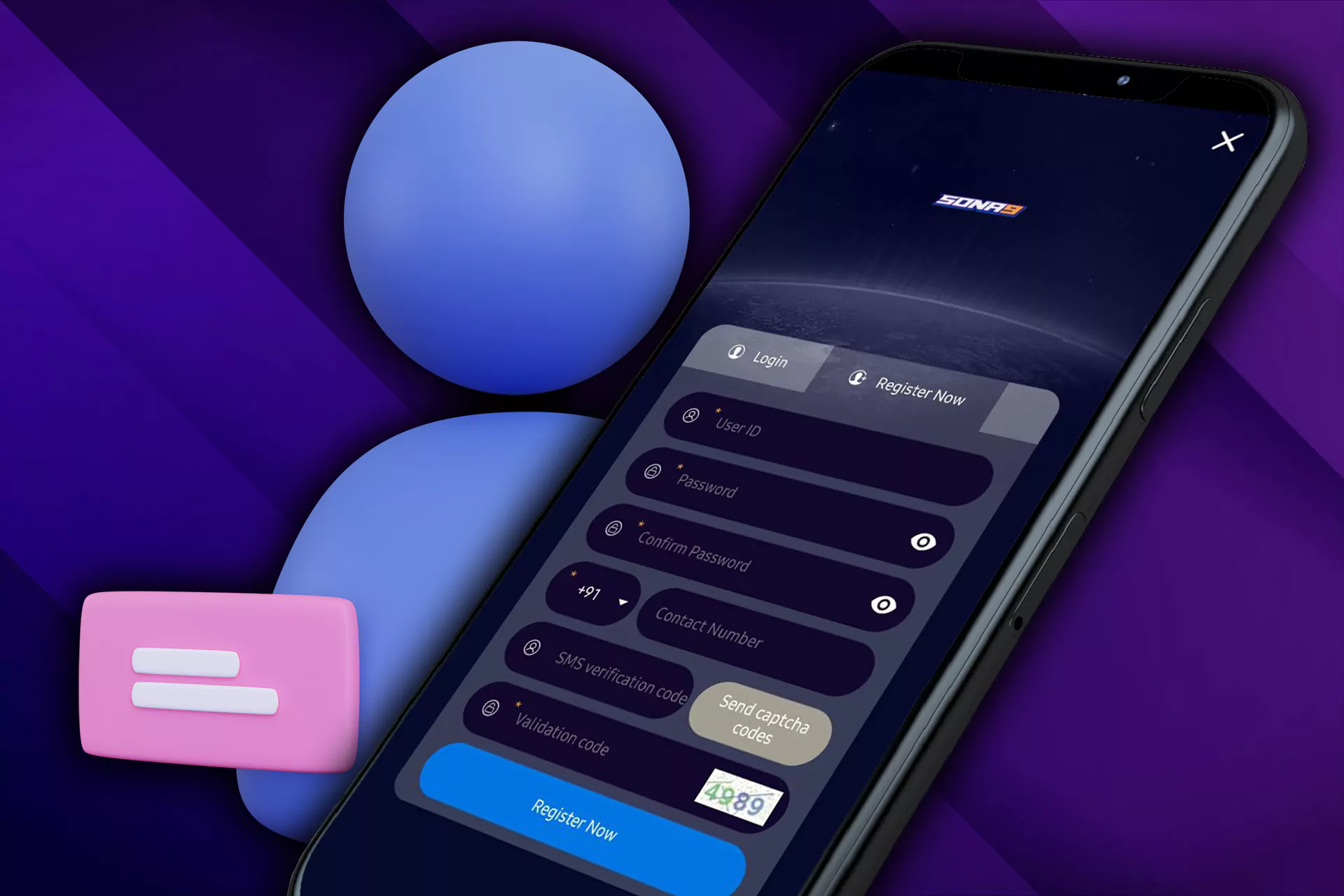 Sona9 App Welcome Bonuses
Welcome bonuses are one of the main advantages that we are ready to offer to every newcomer. If you've recently registered and haven't made a deposit yet, you'll get a pleasant surprise when you make your first deposit. We'll give you a solid boost to your deposit amount.
Sona9 App Betting Bonus
Get +100% on your first deposit up to 12 000 INR. Deposit an amount starting from 600 INR, activate your bonus, and spend extra money on bets. This promotion is available to every new player. And to take part in it, all you need to do is to perform three actions:
Create an new account;
Make a deposit of at least 600 INR;
Request bonus activation within one hour.
This way you can get up to 12,000 INR. But before the money can be withdrawn, you must make a 13-fold betting turnover of the deposit amount and the bonus.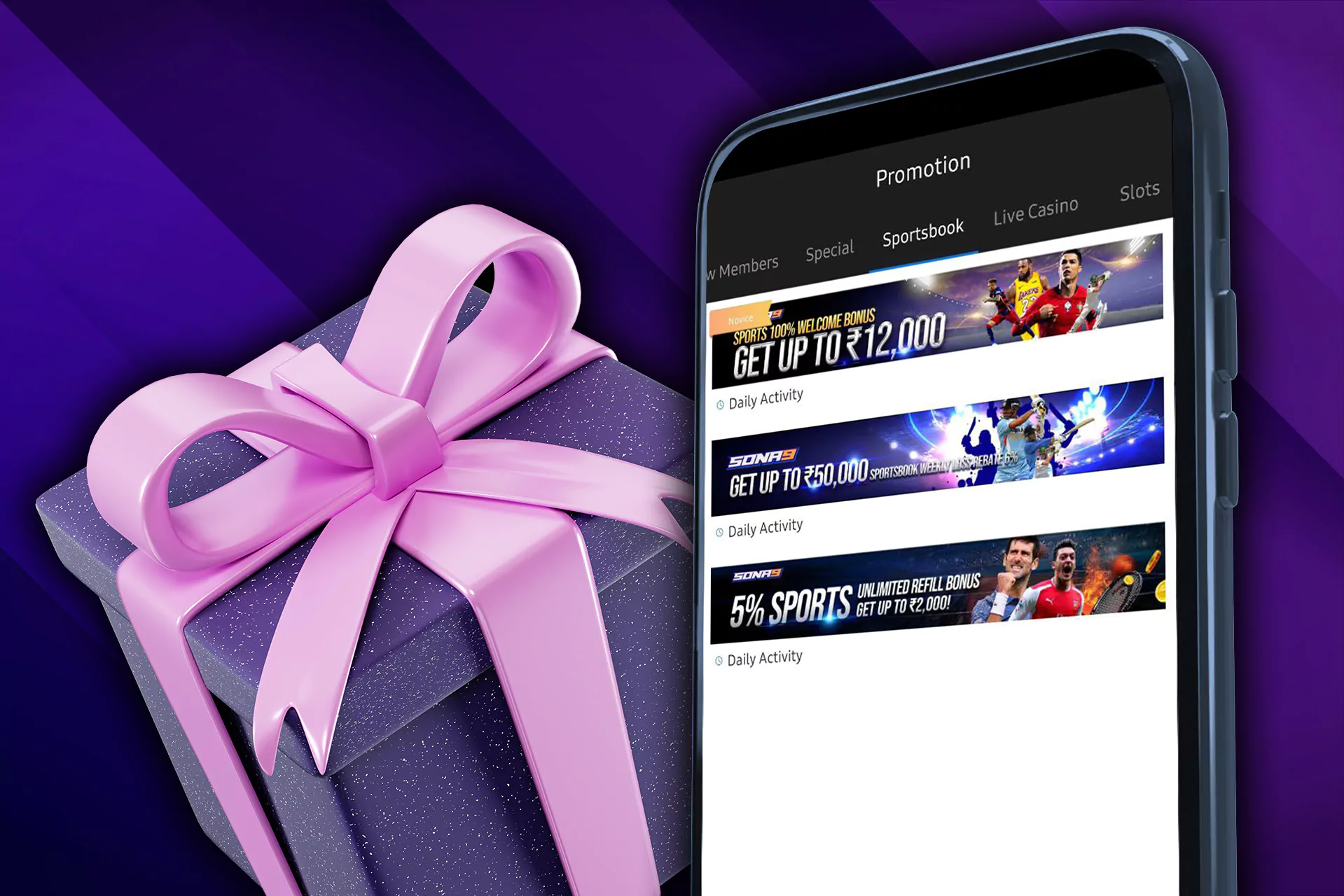 Sona9 App Casino Bonus
Casino lovers will also be in for a pleasant surprise, and not just one. We offer several welcome bonuses to choose from. To activate any of them, all you have to do is register, make a deposit of INR 600 or more, and request a bonus.
Two bonuses are available for the slots section:
| Bonus | The maximum size, INR | Wager |
| --- | --- | --- |
| 100% | 16 000 | х18 |
| 20% | 12 000 | х5 |
Two more bonus options are provided for the live casino:
| Bonus | The maximum size, INR | Wager |
| --- | --- | --- |
| 100% | 20 000 | х30 |
| 50% | 12 000 | х18 |
The wagering period is 30 days from the moment the offer is activated. The wager applies to the total amount of bonus and deposit.
Sona9 App Unlimited bonus
We have another offer for those players who regularly make deposits in the casino or sports betting section.
| Bonus | Size | The maximum amount, INR | Wager |
| --- | --- | --- | --- |
| Sports betting | 5% | 2000 | х2 |
| Slots | 5% | 9000 | х1 |
You will get extra money every time you make a deposit of at least 200 INR. Wagering must be completed within 30 days.
Sona9 App Payment Methods
In order to start playing on Sona9 APP, you need to fund your account. There is no no deposit bonus available on our site. However, a cash desk is also available in the mobile app. You can use it to make deposits and withdrawals by choosing one of the available payment systems:
UPI;
PayConnect;
Payment Gateway;
Bank cards.
You can deposit at least 200 INR into your account. The minimum withdrawal limit is set at INR 2000. We do not charge commission for any types of transfers. However, we recommend paying attention to the terms and conditions offered by the payment system itself.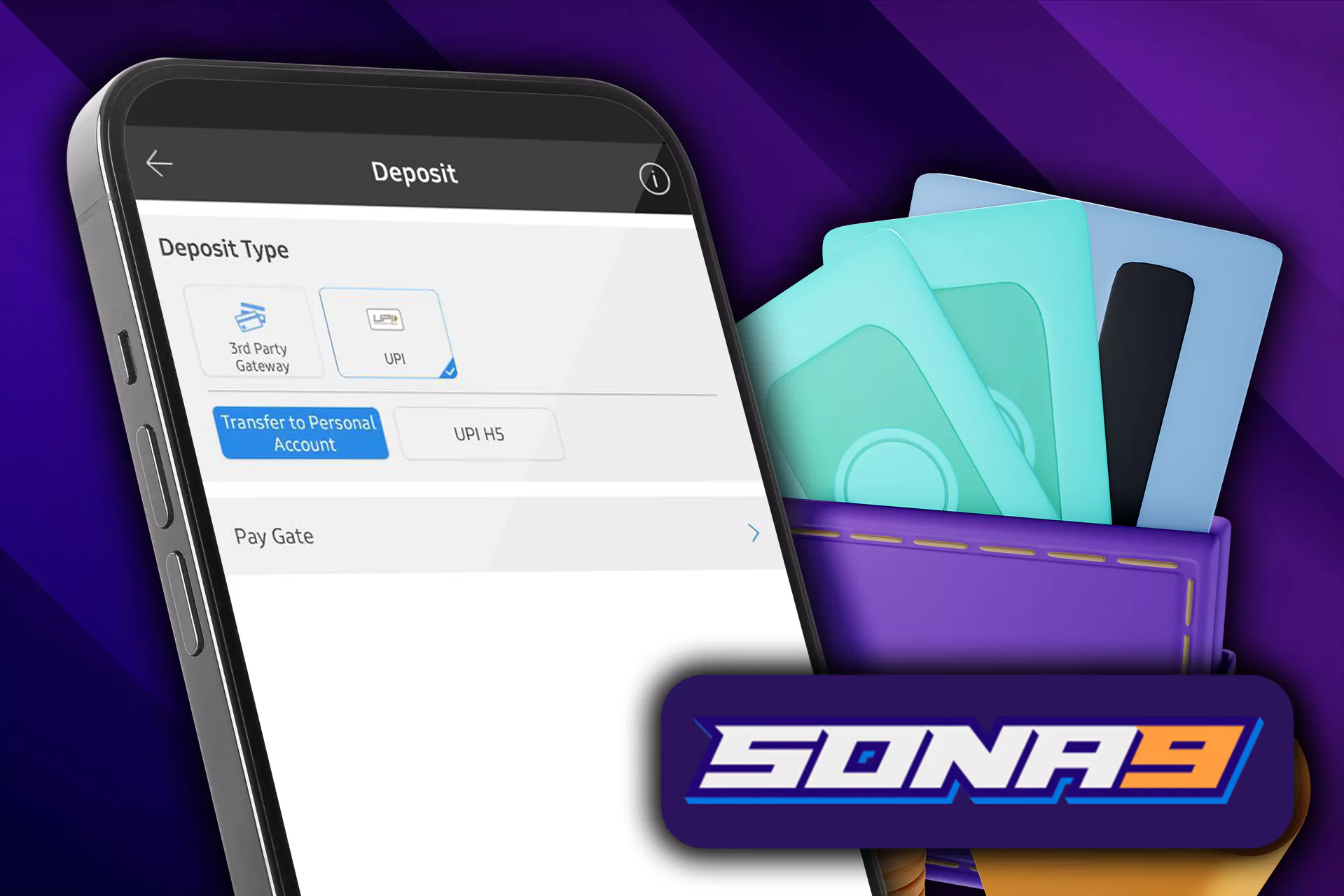 How to Update Sona9 App?
The Sona9 mobile app is updated automatically. After you have downloaded and installed it on your smartphone, each time you start the software, it will check if any updates are needed. If they are needed, you will need to confirm the download and installation of the missing files.
You can also always re-install the application by downloading the current version from the website.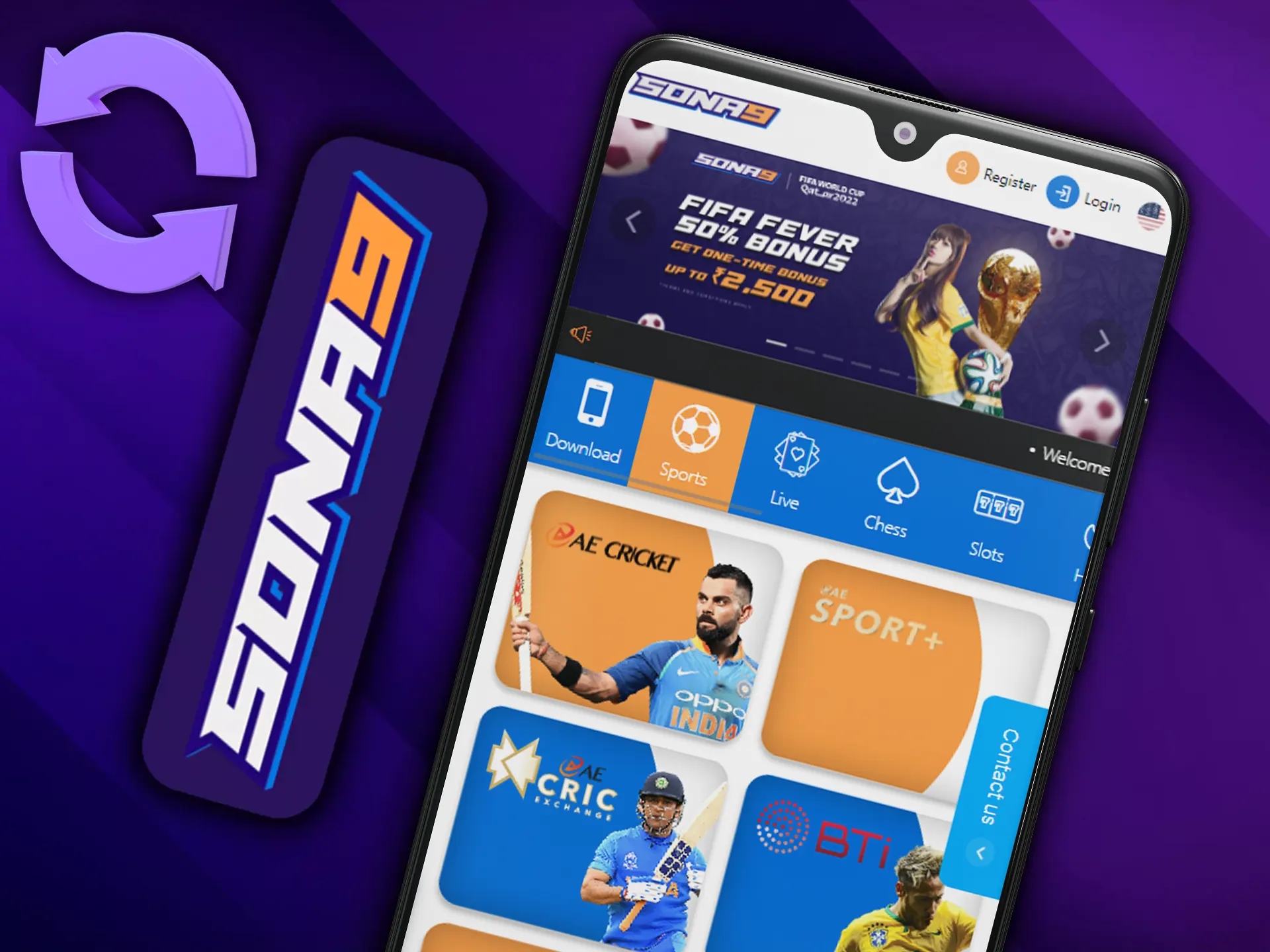 Login at Sona9 App
The account login procedure in the Sona9 mobile app is exactly the same as on the official website. To log in, you need to perform several actions:
Start the application;
Press the button to enter;
Specify a player ID and password;
Confirm authorization.
After that, you will enter your personal cabinet and can open any other section from here. For example, go to the cashier to make a deposit or select a sporting event to bet on.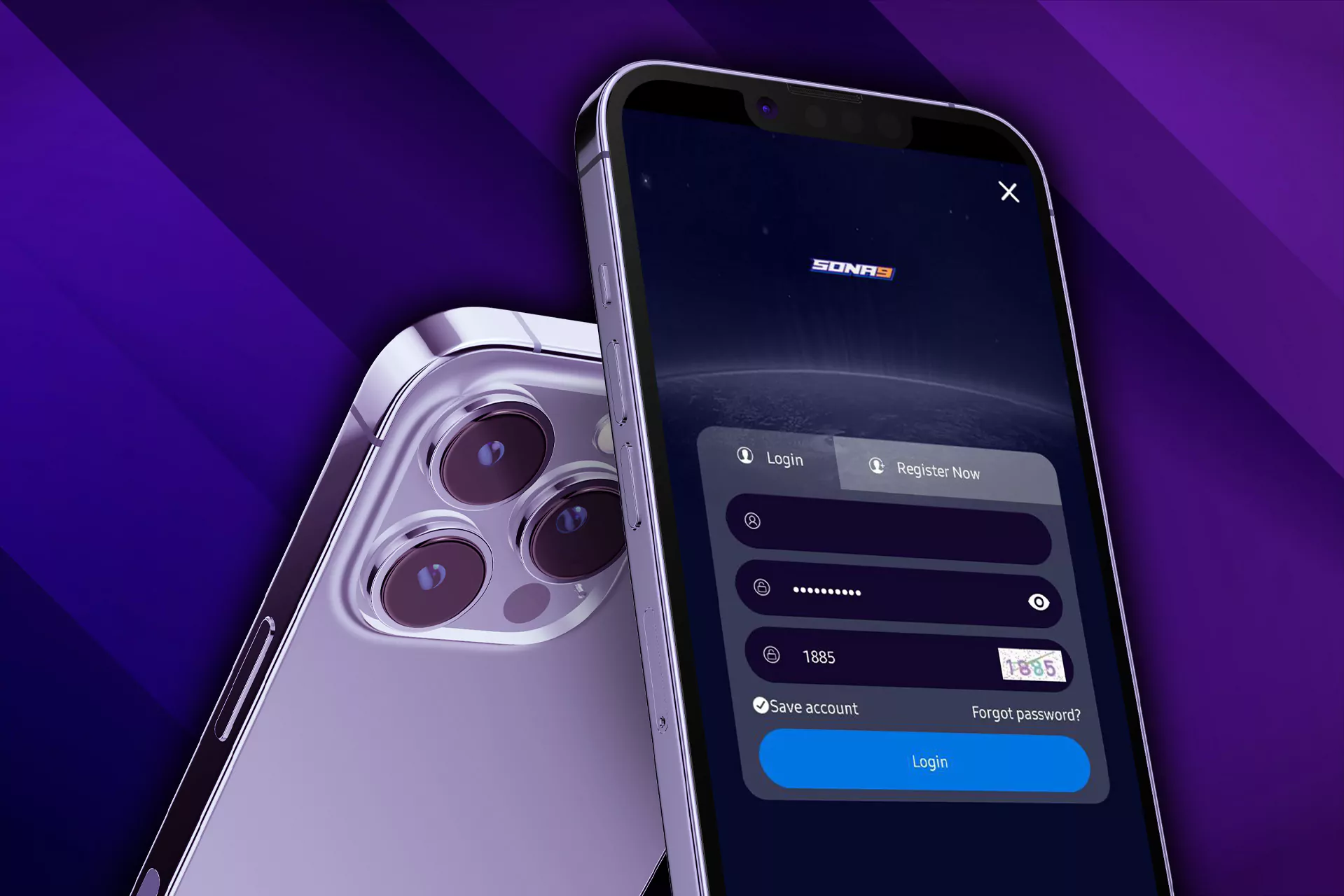 Sona9 App Sports Betting
Sports betting in the Sona9 mobile app is implemented through several operators. Go to the sports section, select an operator, and then you will have access to a large number of sports and events.
Sona9 Cricket Betting App
Cricket is a traditional sport in India that attracts the attention of most betting enthusiasts. In order to provide customers with the maximum variety of betting opportunities, we offer betting on different championships:
Test Matches;
Test Matches Women;
Twenty20 International;
IPL;
BPL.
All these and other competitions are available to every registered player after logging in.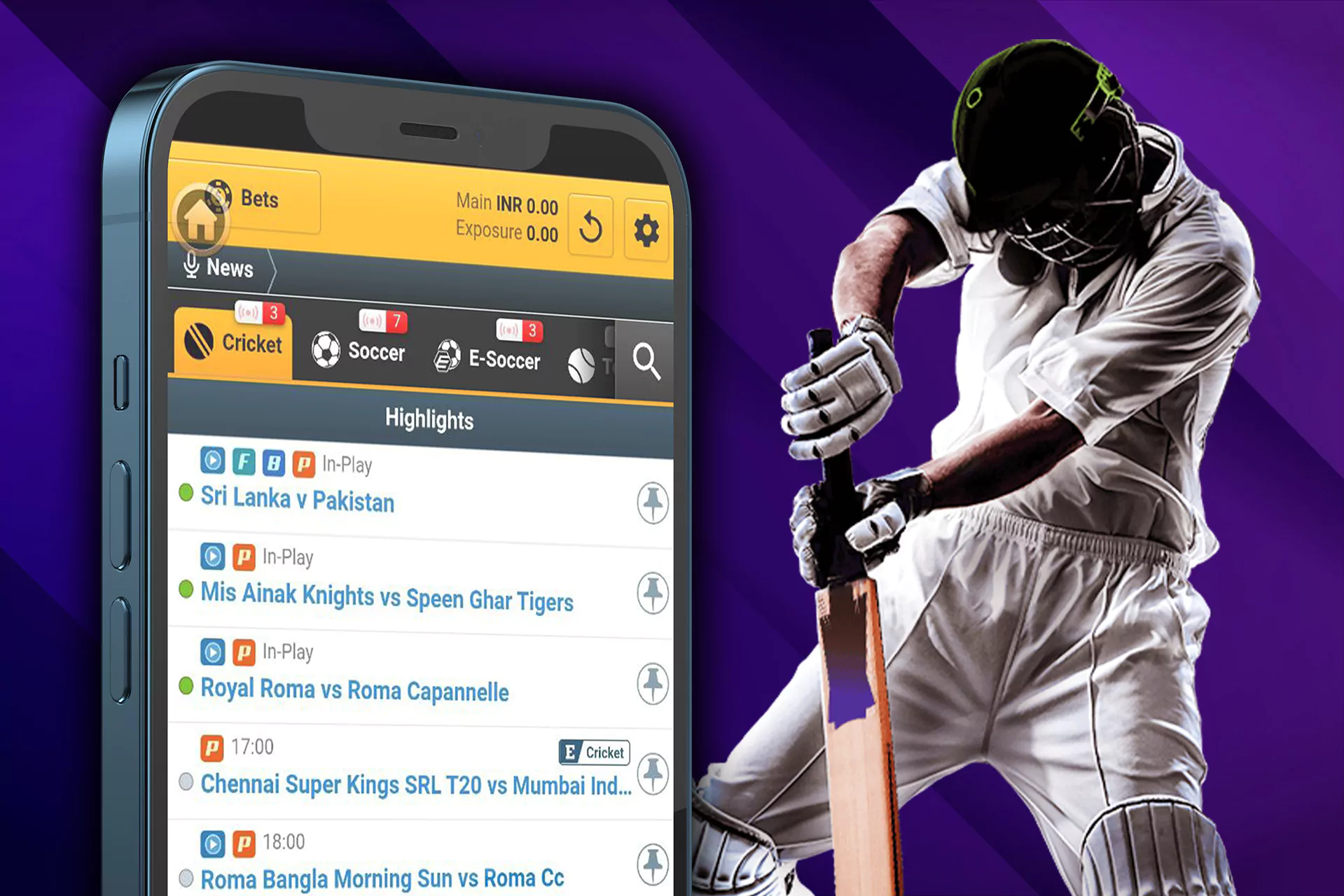 Sona9 Football Betting App
Football the world's most popular sport, which offers unlimited betting opportunities. Dozens of championships, hundreds of events and thousands of outcomes await you in this section.
Some of the most in-demand competitions include:
England – Premier League;
Spain – La Liga;
Italy – Serie A;
Germany – Bundesliga;
France – Ligue 1;
Argentina – Liga Professional;
Australia – NPL New South Wales;
Champions League.
Bet on the winner of the match, try to guess the exact score, give a head start to one of the teams or wait and place a bet in the course of the meeting in Live mode.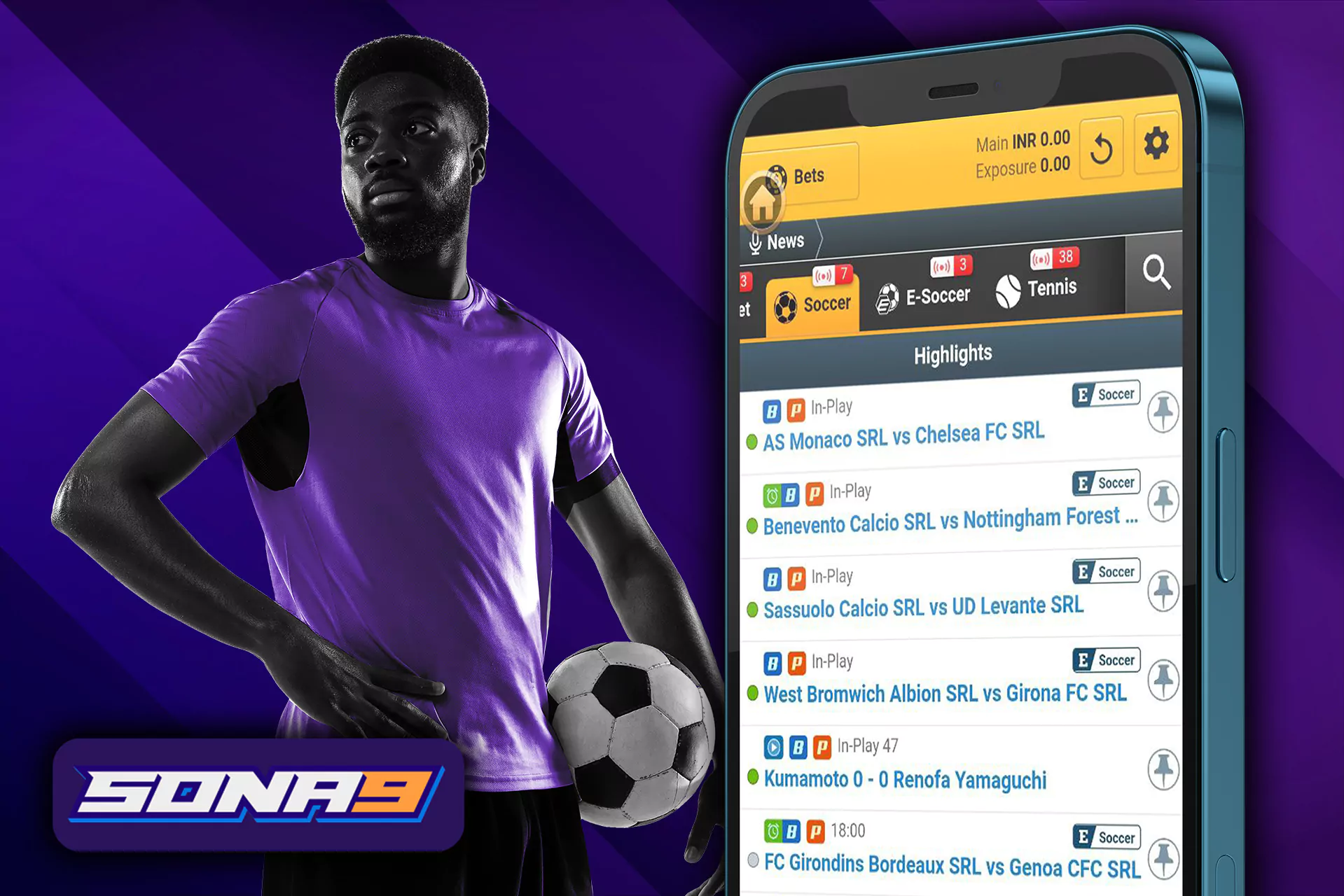 Esports Betting at the Sona9 App
Fans of eSports will be pleasantly surprised by the variety of destinations available for betting in the Sona9 mobile app. What's available here:
Overwatch;
StarCraft 2;
League of Legends;
WarCraft 3;
CS:GO;
Dota 2;
Hearthstone.
If you're into computer games and follow the professional scene, be sure to check out this section and try a few bets.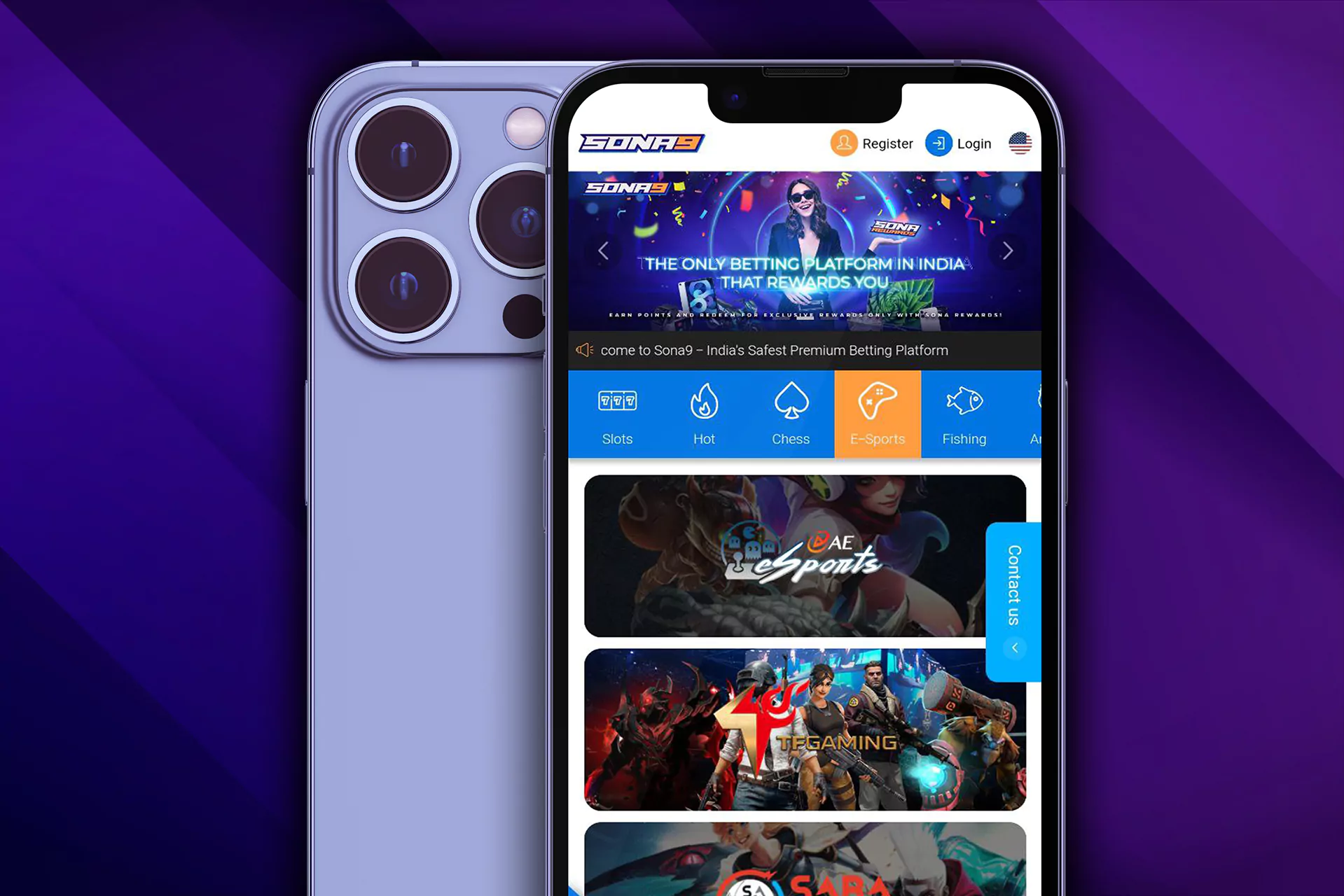 Type of Bets at Sona9 App
When placing a betting coupon, you can choose its type, and the way the odds are formed and the conditions for winning will depend on this. There are a total of two popular options:
Single. Formed due to a single odds, and the winning condition is to win in a particular event.
Express. This bet includes several outcomes, so the odds on them are multiplied by each other. It allows counting on a large final payout. But if even one mistake is made, it will lead to a loss.
Once the bet type has been selected and confirmed, you will no longer be able to change this setting.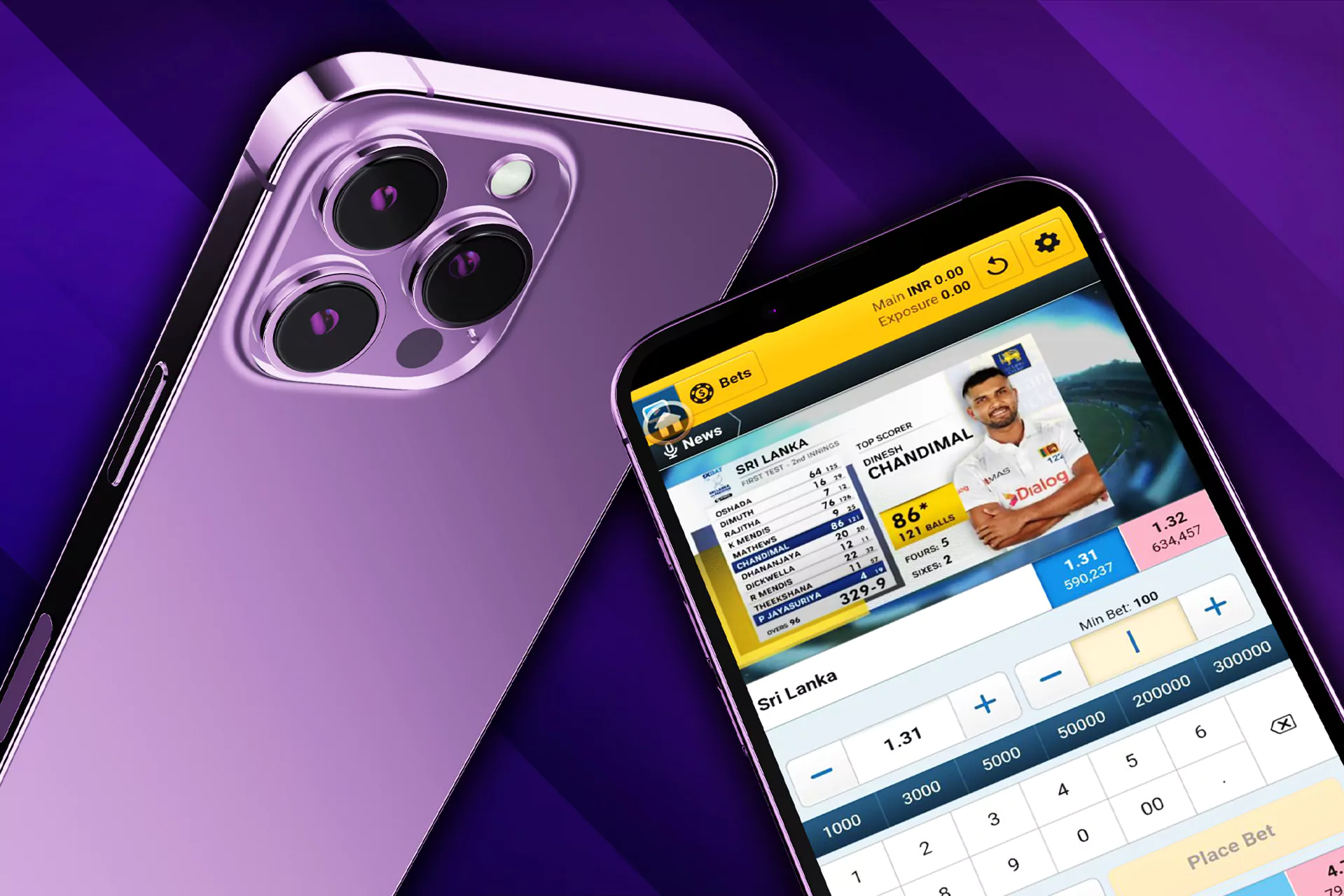 Betting Options at the Sona9 App
The Sona9 mobile app features two betting modes. You can choose between them when looking for a specific event to bet on:
Line. The mode of betting on upcoming events. This is where the matches that will start in the future are added. So you will have time to think over your bet and analyze the risks;
Live. Here are the events that have already started and are going on right now. When something changes in the match, it causes the odds to change. Therefore, in this section, it is important to be able to react quickly to the changes taking place.
Choose a betting option that best suits your style of play, or combine them.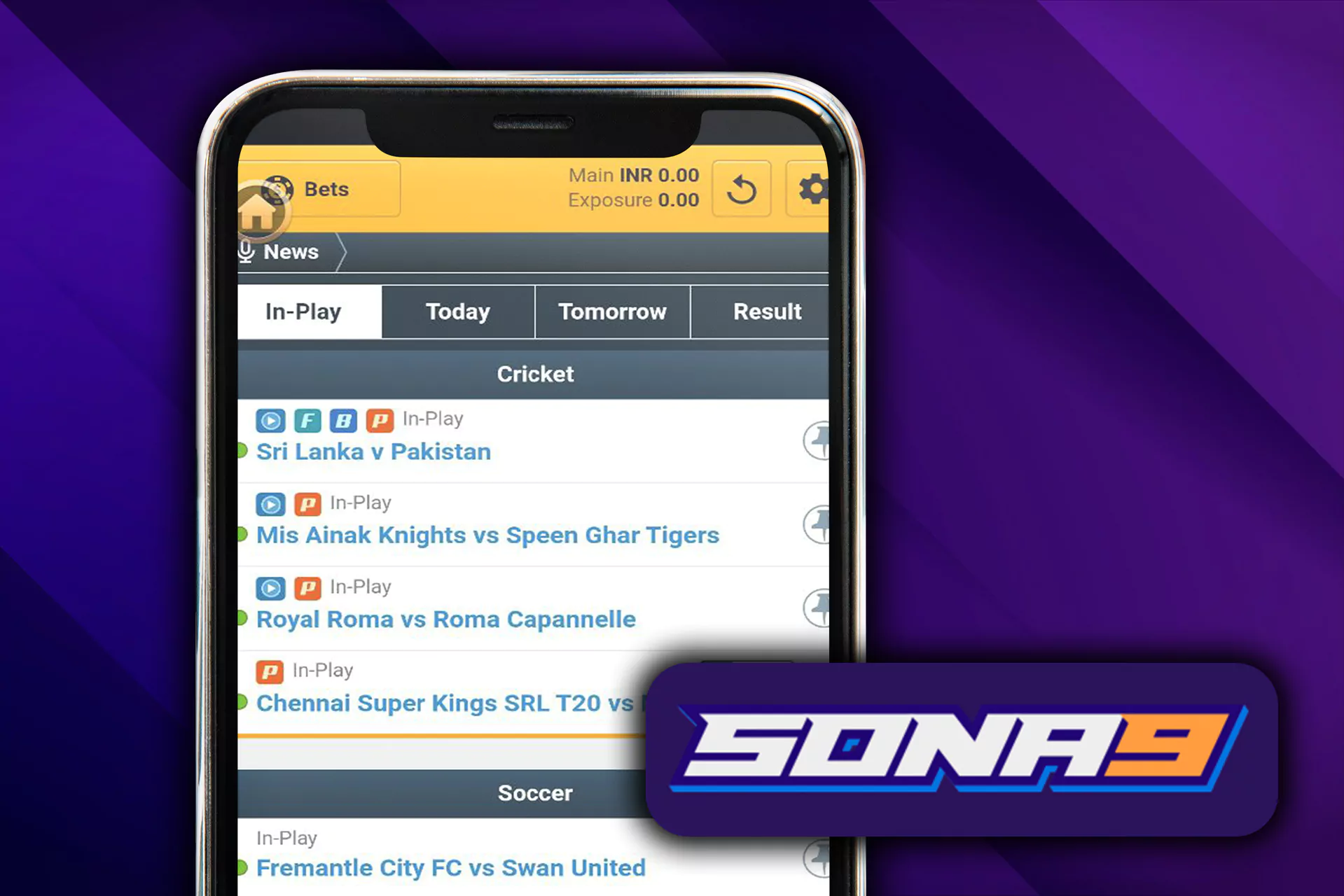 Sona9 Casino App
After downloading and installing the Sona9 app, in addition to sports betting, you will have access to a large-scale section with casino games. The functionality of the casino is fully identical to the similar section on the website. You do not need to register in it separately. One balance is used for betting.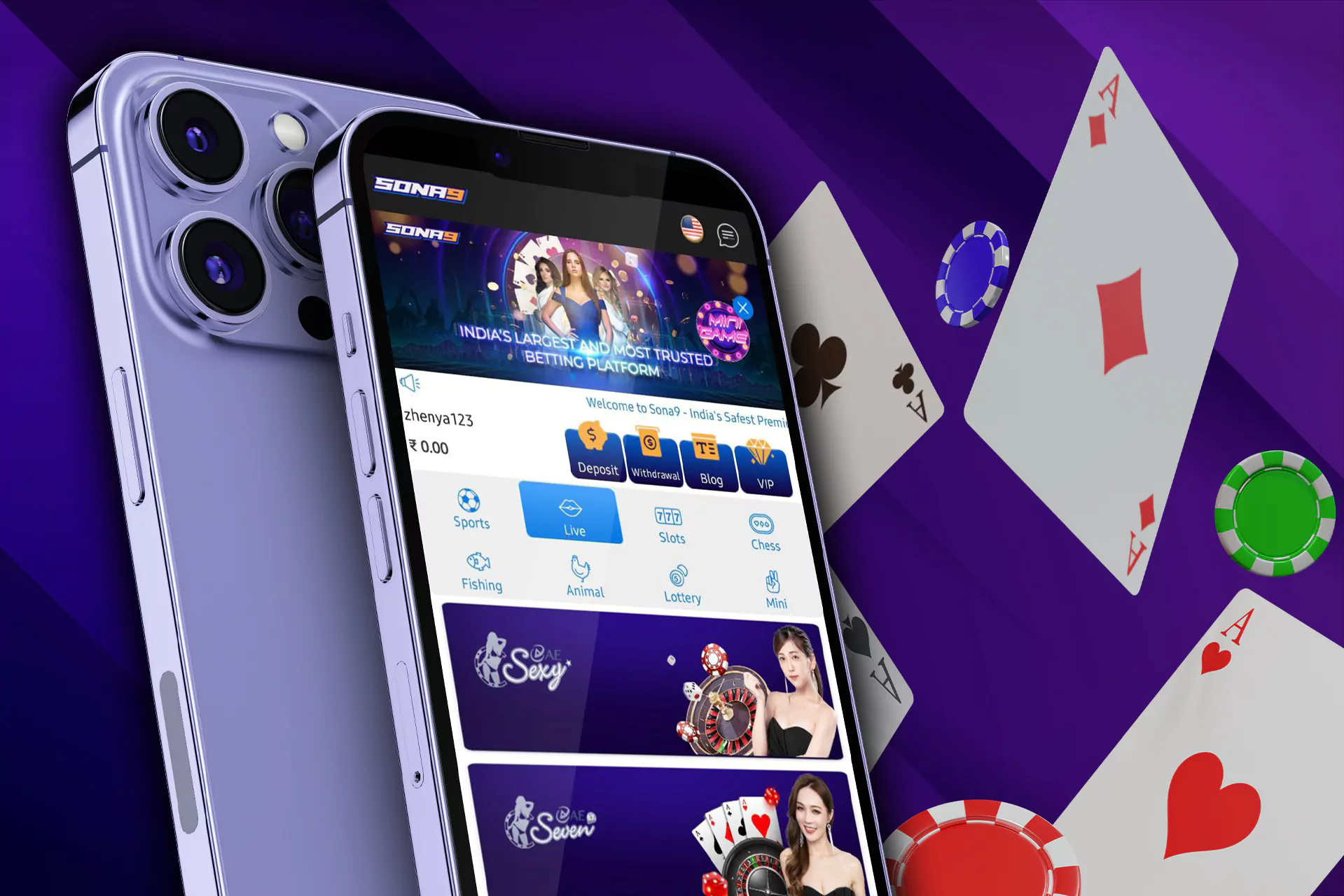 Casino Games at Sona9 App
At Sona9 Casino, users have hundreds of activities to choose from, which can be roughly divided into several categories:
Slots. Ideal for beginners. They do not require any player knowledge and skills. It is enough to run a slot machine, decide on the size of the bet and start making spins;
Poker. Collect combinations of cards and receive different payouts depending on the strength of the combination. You can also play against a computer or a live dealer;
Baccarat. If you're interested in quick games, check out baccarat. It requires you to bet on the player, the banker, or the draw. The side that gets the most points after being dealt two or three cards wins;
Blackjack. The most popular card game in casinos. Draw cards, accumulate points, and beat the dealer to take the pot;
Roulette. Place bets on one or more numbers. Wait for the roulette wheel to stop and receive your payout if the ball falls into the sector corresponding to your bet.
We also have a separate category of live dealer games. Pay attention to this section if you want to feel the atmosphere of a real casino.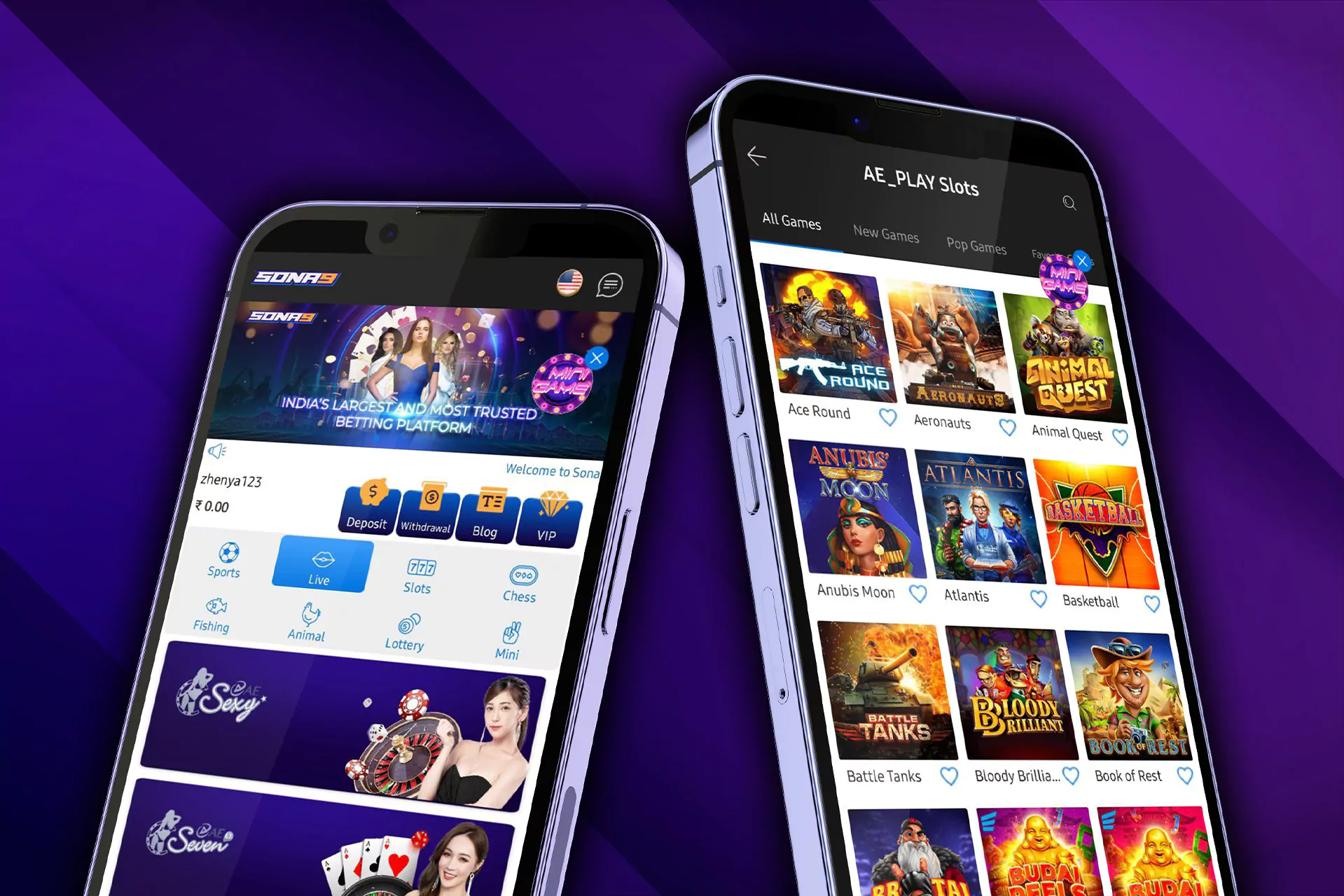 Sona9 Mobile Version
If you don't want to download the mobile app, it is possible to play it on the official website. On it, you will also be able to bet on any sports and play casino games.
Thanks to the adaptive design you will not have any problems with the usability of the interface. At the same time, the site is not inferior to the application in terms of gaming features and most of the functions.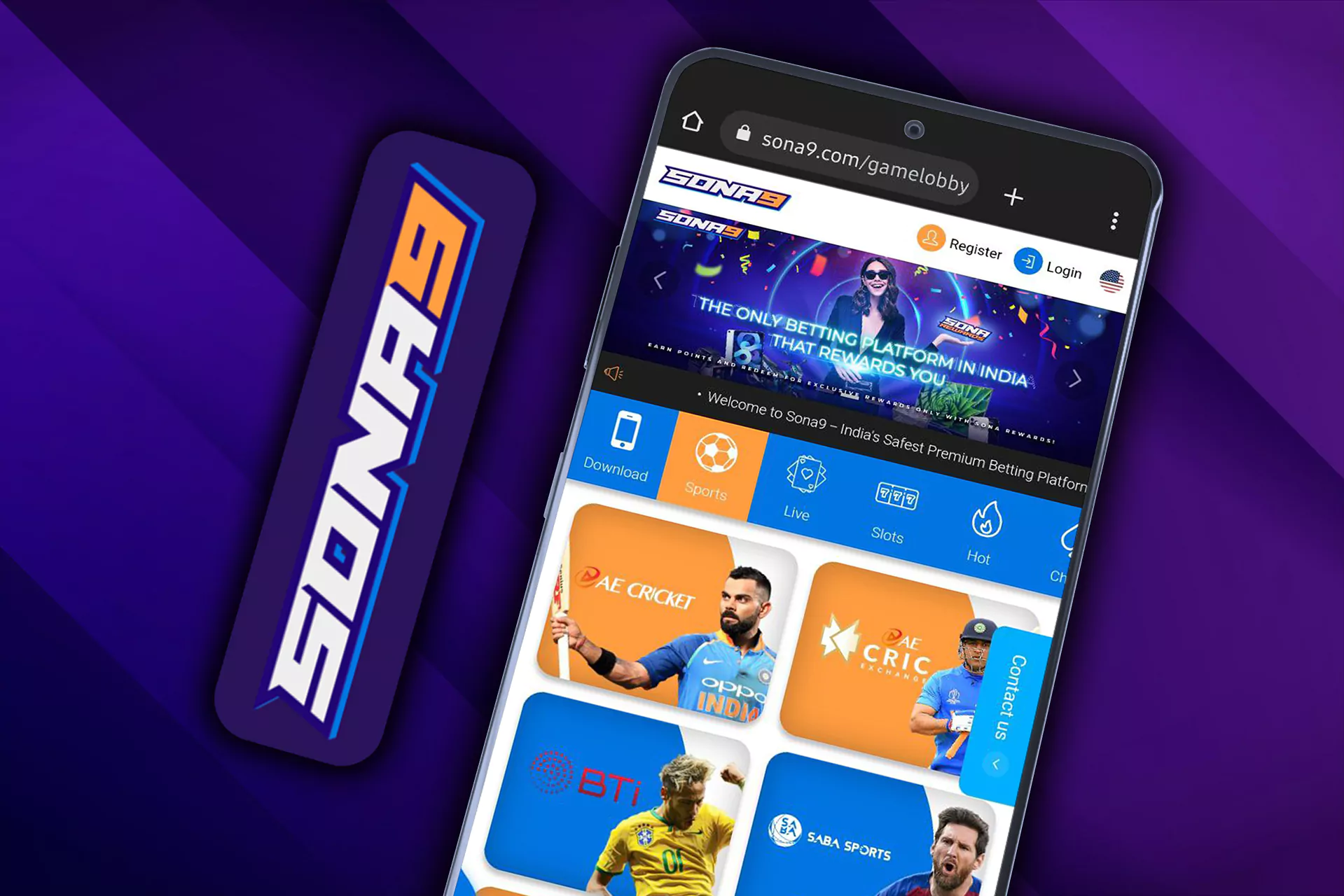 Differences Between Sona9 App and Mobile Website
There are no cardinal differences between the mobile app and the website. The difference is mainly in the little things.
| App | Website |
| --- | --- |
| Requires download and installation | You can play in your browser without downloading |
| Needs regular updates | No need for updates |
| Various settings are available | No flexible settings |
| There are notifications alerting you to various promotions and events | No notifications |
| Faster interface | Running slower |
Otherwise, the user experience will not differ. Also, you may very well combine the game in both versions.
Features of Sona9 App
We are constantly working on improving the software to make the Sona9 mobile app as functional and comfortable as possible for our players. Already today you can count on many benefits.
Fast operation
Thanks to quality optimisation and accelerated interface, the app runs noticeably faster than the website.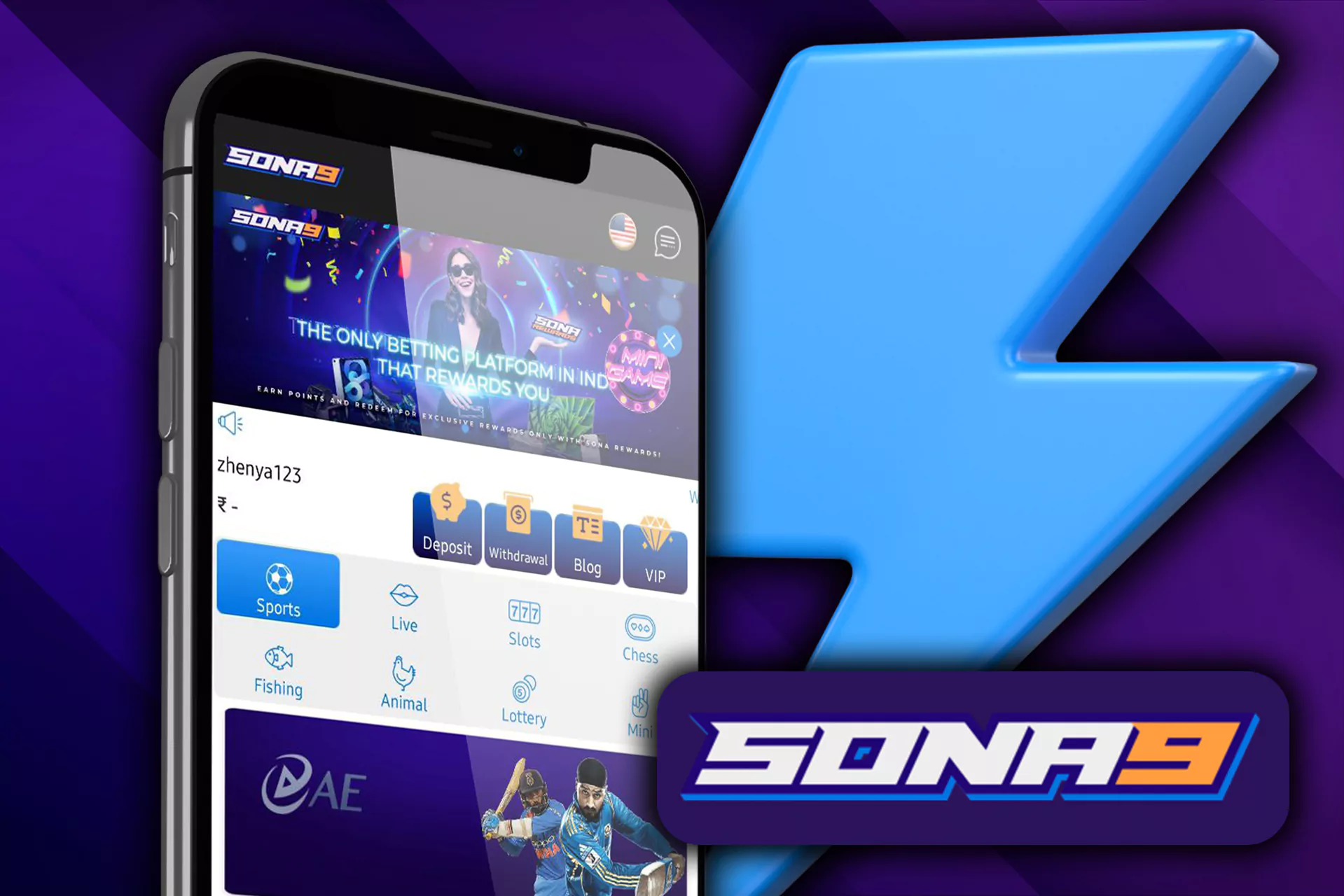 Generous bonuses
Mobile users can receive any bonuses available to Sona9 players, including various welcome bonus options.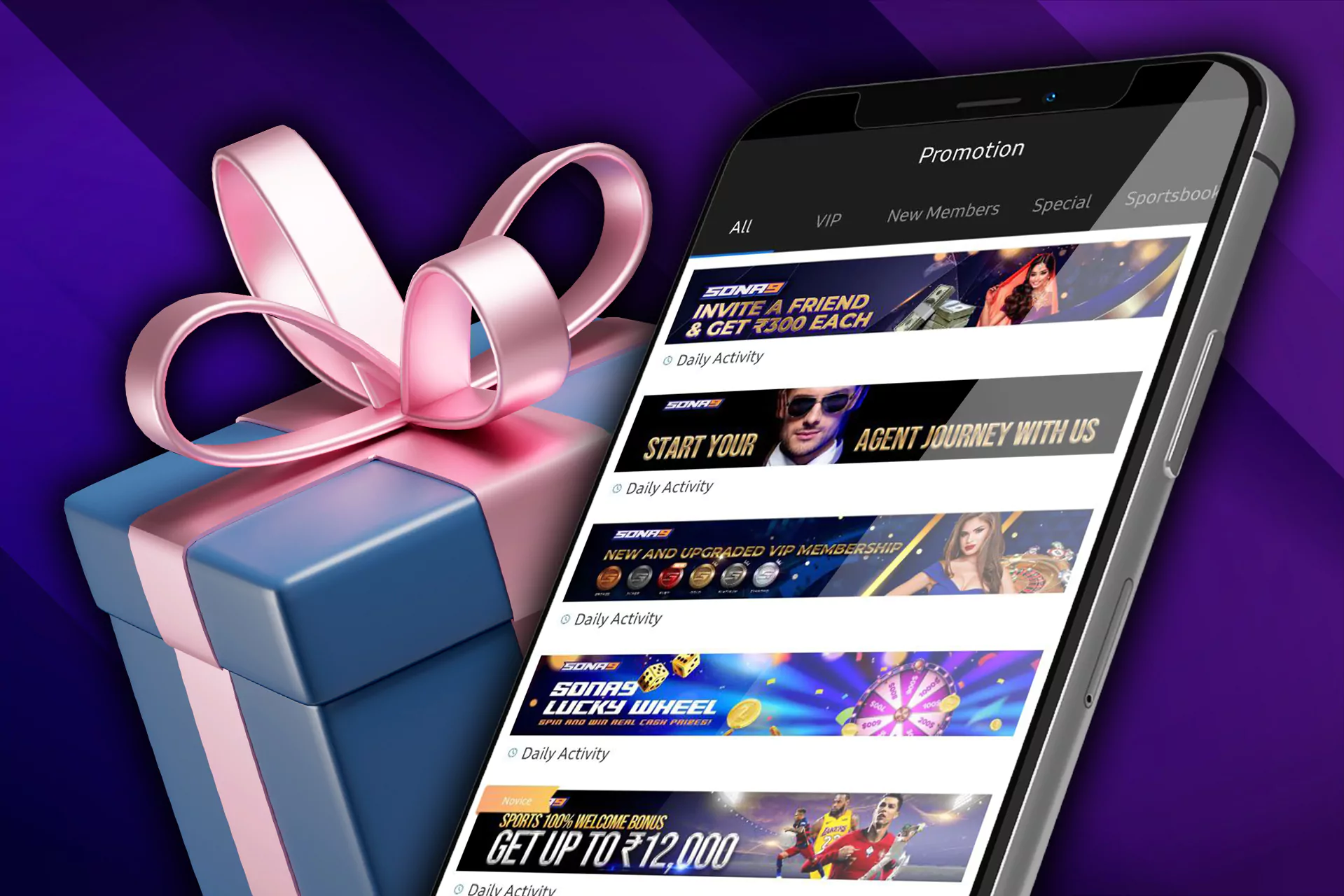 Safety
All the data you enter and transmit when using the app is leak-proof and encrypted.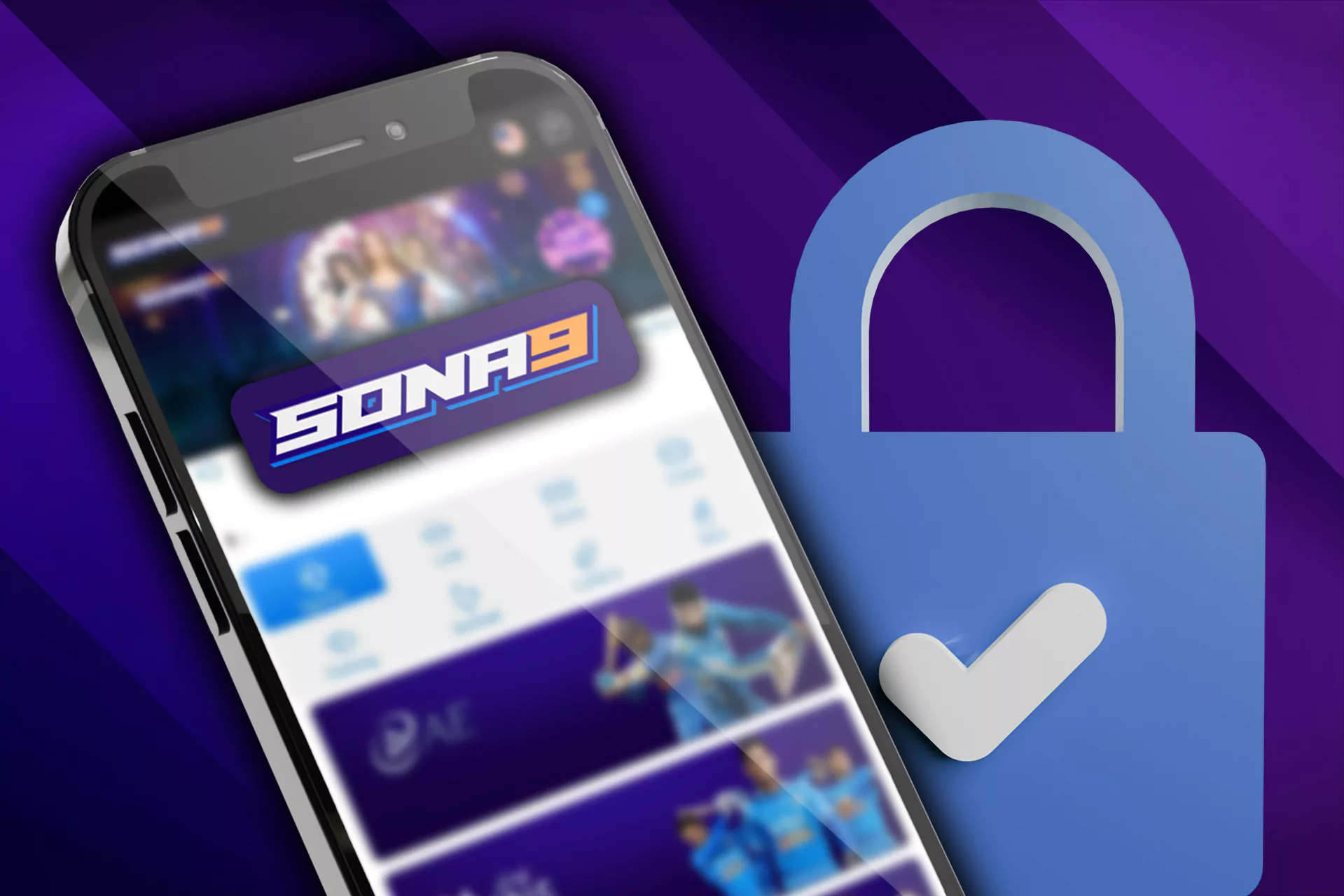 Sona9 Customer Support
If you have a question during the game or encounter a problem, ask the support team for help. It operates around the clock and helps players overcome any difficulties. It can be reached through online chat on the website as well as via email.
We accept emails from customers at complains@sona9.com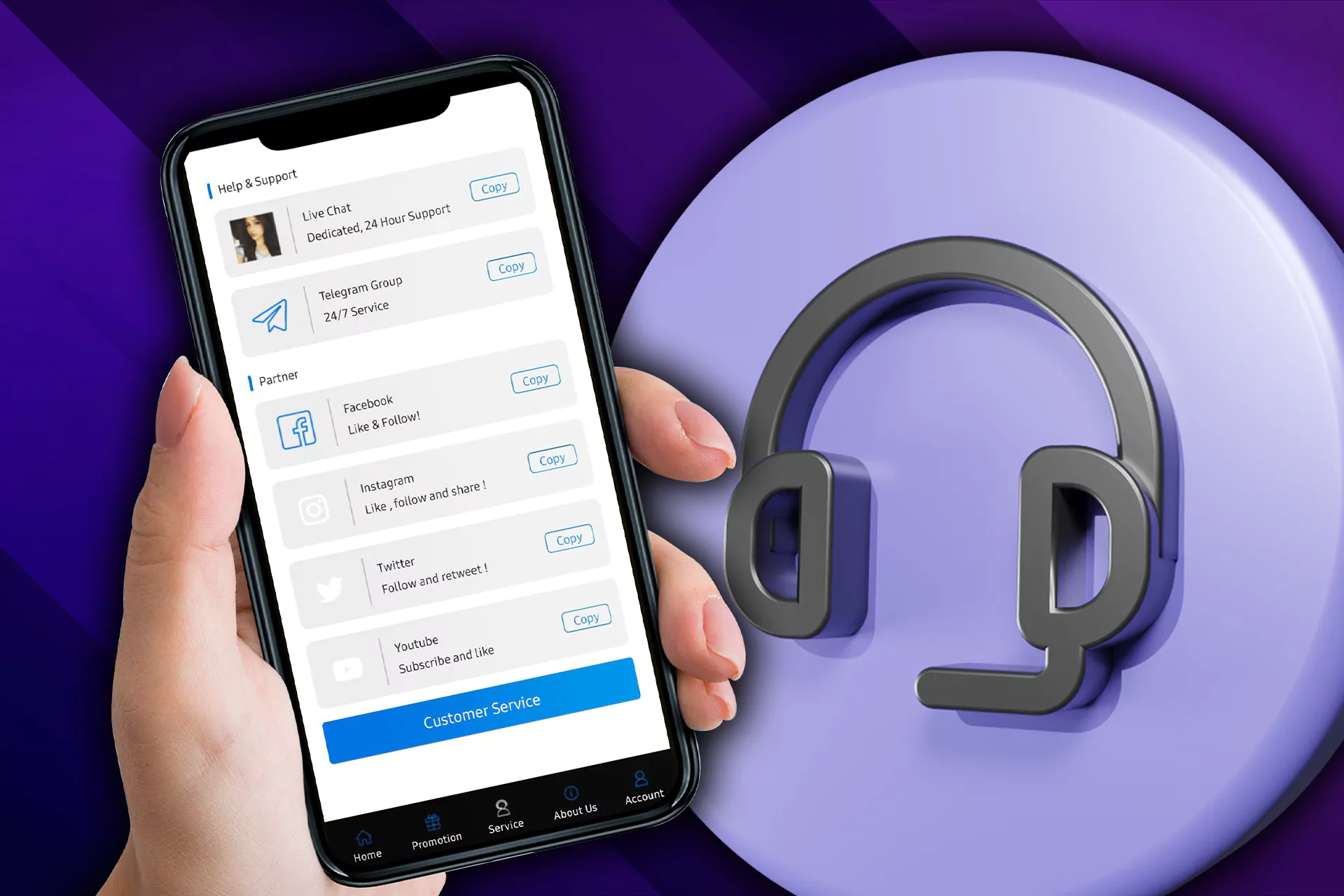 FAQ
How to Use Sona9 App?
To play through the application, you need to perform several steps. Download the installation file, allow apps from unknown sources to be installed, and run the file once the download is complete.
Can I create a separate account to play through the app?
No, it is not allowed to have more than one account. Each user can only register once.
What happens if I get a phone call while playing casino games?
The game will stop. You will be able to return to it after you finish the conversation. The game will continue from the same place.
Can I activate the bonus in both the sports section and the casino?
No, you must select only one of the offered bonuses. If you activate one, the other will not be available.
Updated: